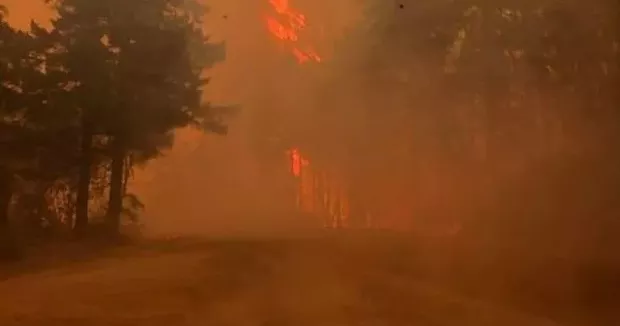 Submitted
Looking from the Kettenpom store toward Covelo on Sept. 10.
Firefighters kept the Hopkins Fire east of the Main Stem of the Eel River and out of Humboldt County again last night.
The fire has once again had a name change. It is now being called the August Complex West Zone, but is still grouped with the August Complex as part of the largest fire in California history.
The August Complex continues to contribute to what officials have dubbed "very unhealthy" air quality throughout the North Coast region, and residents are urged to stay inside as much as possible with doors and windows closed. Read more about the air quality warning
here
.
The Plan:
Firefighters will be strengthening structure defense for the Hettenshaw Valley, the Kettenpom Valley, and Ruth areas.
The Weather:
Smoke will help keep the temperatures down into the low seventies in the higher elevations to the low eighties in the lower elevations. Smoke will likely be lighter today and there will be better visibility than yesterday. Expect some wind with light gusts up to 10 mph. Moister air will help firefighters.
The Roads:
Here is the latest information:
Highways Closed Due to Fires
The Maps:

Evacuation Area information:

Trinity County:
Zenia, Kettenpom, Hattenshaw Valley and Ruth
Mendocino County:
The Covelo area
Humboldt County:
Evacuation order remains in effect for areas south of Casterlin Road to the Mendocino-Trinity county line and east of Dyerville Loop Road and Bell Springs Road to the County line. A warning remains in effect for all areas west of Bell Springs Road to U.S. Highway 101 from Elk Creek Road/Dyerville Loop Road to the Mendocino-Trinity county line.
USEFUL Information:
Animal evacuation in Humboldt: "If you have a need to evacuate animals please contact the Humboldt County Fairgrounds to arrange for drop off. HCF is also arranging for trailers if needed to transport animals. Please call 707-496-8841.
Evacuation place for Humboldt residents:

The Mateel Community Center located at 59 Rusk Lane will be open as an evacuation shelter this Wednesday afternoon and as needed. "Small pets are welcome with leashes outside the hall, no pets are allowed inside the hall due to potential allergy reactions for some individuals. For more information about the ongoing fire evacuation center located at the Mateel visit
www.mateel.org
."
As of noon Wednesday, the Humboldt County Fairgrounds has been designated as an Office of Emergency Services County-wide Evacuation Center for both human and livestock fire evacuees. Because of COVID, human evacuees need to have trailers and RV's and/or tent campers.
Redwood Acres is preparing to take in fire evacuees, both livestock and those who have an RV or are willing to camp. There is a chance that the Red Cross may want to set up a station.
Fire Evacuation Information Line at 707-268-2500 for questions regarding current county evacuations and resources.
Evacuation place for Mendocino Residents-
Covelo High School for people (76280 High School Street)
The Laytonville rodeo grounds are open for livestock. They are located at Harwood Road Laytonville, call ahead at 707-984-8100 Harwood Hall is also open for residents feeling the Hopkins fire. They are located 44400 Willis Ave, Laytonville
You can listen to
Trinity County Scanner
by clicking
here
.
You can listen to
Southern Humboldt County Scanner
by clicking
here
.
You can listen to
Mendocino County Scanner
by clicking
here
.
Good fire and smoke info
here
. (Please remember the info here isn't always up to date. If you are given an evacuation order, leave–no matter what this says.)
Water Station Open for Fire Evacuees at Rio Dell City Hall

The Humboldt Transit Authority
is currently offering regular services to Southern Humboldt County.

Wildfire Evacuation Checklists:

15 minute packlist

30 minute backlist
Sixty and 120 minute packlist
Number to call for information on evacuation in Humboldt County: 707-268-2500.
See a press release from the Humboldt County Office of Emergency Services copied below:
September 12, 2020 | Humboldt OES August Complex West Fire Response Daily Update
OES LOGO FINAL
Evacuation warnings and orders remain in effect for southern Humboldt County as fire crews work to contain the August Complex West Zone (formerly known as the Hopkins Fire), just east of the county line. The Humboldt County August Complex West Fire Emergency Operations Center continues to staff a Fire Evacuation Information Line at 707-268-2500 for questions regarding current county evacuations and resources.

CURRENT SITUATION

As of Saturday, Sept. 12, 2020, the Hopkins Fire will now be referred to as the August Complex West Zone in all Humboldt County Office of Emergency Services communications as the official name of this incident as adopted by Cal Fire.

As of 9 a.m. Saturday, the August Complex West Zone has not jumped the Eel River and has not entered Humboldt County. Fire crews continue working today to keep the fire east of the Eel River and out of the county away from populated areas. Cal Fire has not determined a containment estimate at this time. For information specific to fire size, activity and resources, please visit: https://www.fire.ca.gov/incidents/2020/8/16/august-complex-includes-doe-fire/.

CURRENT EVACUATION INFORMATION

An EVACUATION ORDER remains in effect for the areas south of Casterlin Road, including all properties on Casterlin Road, to the Mendocino / Trinity County Line and east of Dyerville Loop Road and Bell Springs Road to the county line.

An EVACUATION WARNING remains in effect for all areas west of Bell Springs Road to Highway 101 spanning from Elk Creek Road / Dyerville Loop Road to the Mendocino / Trinity County Line in Southern Humboldt County.

An EVACUATION WARNING was issued Friday, September 11, and remains in effect for areas east of Alderpoint Road spanning from Highway 36 to Casterlin Road, not including properties on Casterlin Road.

Maps of evacuation zones and routes are available at humboldtgov.org/evacmap or humboldtsheriff.org

Evacuation order and warning decisions are determined by Cal Fire. The Humboldt County Sheriff's Office of Emergency Services will notify residents of new orders or warnings via Humboldt Alert, online at humboldtsheriff.org and on the HumCoOES social media pages.

MAPPING TOOL

The Humboldt County Sheriff's Office of Emergency Services continues to maintain an interactive mapping tool displaying Humboldt and Trinity County Evacuation Warning and Order zones, evacuation routes, roadblocks and closures and evacuation shelters.

As of Saturday, Mendocino County OES has requested that Humboldt County remove Mendocino County's evacuation mapping information from our interactive map tool. The public is directed to access Mendocino's evacuation map at: https://tinyurl.com/MendoEvac for Mendocino County information.

CURRENT ROAD CONDITIONS

The California Highway Patrol continues to maintain roadblocks at the following locations:

Alderpoint Road at Fort Seward Road,
Dyerville Loop Road at Fort Seward Road,
Alderpoint Road at Dyerville Loop Road.
Bell Springs Road remains closed to the public.

Fort Seward Road remains closed to through traffic and the town of Fort Seward is open to residents only. Fort Seward residents must provide proof of residency (ex. mortgage/utility statement, tax statement, CA Driver's License) to access Fort Seward road and return home within the Evacuation Warning zone. Fort Seward residents should remain ready to evacuate at a moment's notice should fire conditions change.

RESOURCES FOR THE COMMUNITY

The Humboldt County Sheriff's Office of Emergency Services in coordination with the American Red Cross-Gold Country Region has established a Northern California Regional Evacuation Shelter for wildfire evacuees at the Humboldt County Fairgrounds, located at 1250 5th St in Ferndale.

At this site, wildfire evacuees will be able to access:

Temporary indoor overnight shelter accommodations,
Meals,
Water,
Fire information,
Restrooms,
Red Cross services,
Free car/tent camping,
Low-cost RV parking sites,
Livestock and small pet boarding.
Wildfire evacuees currently camping or using RV parking spaces at the Shelter are encouraged to continue doing so to allow for increased social distancing. Additional camping space is available for wildfire evacuees.

The Humboldt County Office of Emergency Services is not currently accepting donations. Please do not drop off donations at the Humboldt County Fairgrounds unless authorized by Pay it Forward Humboldt.

To volunteer or donate to assist regional wildfire evacuees, please contact:

Pay it Forward Humboldt:

Volunteer: 707-499-2364
Donation: 707-499-3840
payitforwardhumboldt@gmail.com
Humboldt Area Foundation: Hafoundation.org

American Red Cross: Redcross.org

Humboldt CERT: Humboldtcert.com

FOR MORE INFORMATION

County residents are encouraged to sign up for Humboldt Alert at humboldtgov.org/alerts.

For more information regarding the Hopkins Fire, current impact and evacuation areas, please go to humboldtsheriff.org and visit @HumCoOES on Facebook and Twitter, or call 707-268-2500.

###

For the latest Hopkins Fire information: humboldtsheriff.org
Facebook and Twitter: @HumCoOES
Instagram: @HumboldtSheriff