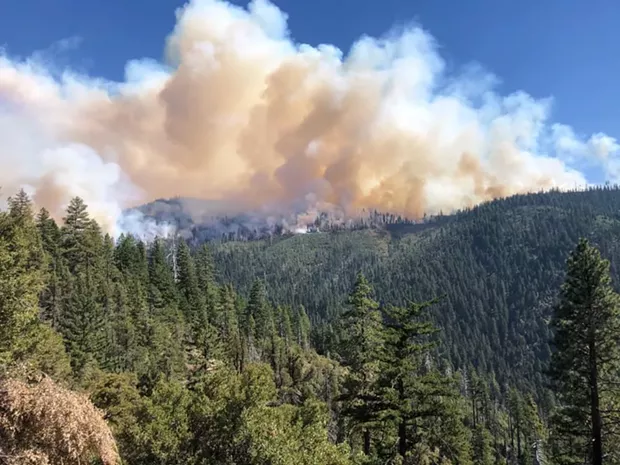 Red Salmon Complex/Facebook
The Red Salmon Complex fires grew by about 10 percent yesterday.
The Red Salmon Complex Fire grew by about 10 percent yesterday but fire crews report "significant progress" in efforts to protect communities — including Hoopa, Willow Creek and Denny — from its spread.
The fire now spans 84,880 acres in the Klamath, Six Rivers, and Shasta-Trinity national forests within Humboldt, Trinity and Siskiyou counties and is 18 percent contained. Crews spent yesterday trying to protect property on the Hoopa Valley Reservation, which is threatened by the fire's western edge.
"Fire crews made significant progress across the fire on community and property protection efforts," an update states. "Burnout operations widened and strengthened firelines on the western flank, adding critical protection to homes and residents of the Hoopa Valley wildland-urban interface."
Today's efforts will work to contain the fire's western and northwestern edges to further protect Hoopa, as well as to strengthen containment lines on the northeast side of the fire, where it is spreading toward State Route 93 and Forks of Salmon.
"Crews will continue to construct indirect fireline, prepare for additional burnout operations and provide direct attack where safe to do so," the update states.
The release warns that once an inversion layer that has brought lower temperatures and a bit more humidity lifts today, "there is the potential for fire spread in all directions."
Nonetheless, the Trinity County Sheriff's Office this morning lifted an evacuation warning for the town of Denny, which sits just east of the Humboldt-Trinity county line, north of Burnt Ranch and east of Willow Creek.
The Red Salmon Complex continues to contribute to what officials have dubbed "very unhealthy" air quality throughout the North Coast region, and residents are urged to stay inside as much as possible with doors and windows closed. Read more about the air quality warning
here
.
For more information, see the full press release from the U.S. Forest Service below.
See related PDF