UPDATE:
The Mendocino County Sheriff's Office issued new evacuation orders for areas south and east of Humboldt County this evening. Read more from Redheaded Blackbelt
here
.
PREVIOUS:
The August Complex is continuing to move northeast from the Ruth Valley where firefighters are working to defend home along Ruth Lake Road while on the western edge near Zenia work is being completed on handlines to the Middle Fork of the Eel River.
Heightened fire conditions are expected today due to a combination of winds and low humidity. The lightning caused complex is more than 877,000 acres and 28 percent contained.
According to this morning's update from the Humboldt Office of Emergency Services, the fire had not jumped the Eel River as of 7 a.m.
Evacuation Orders in Humboldt County are for areas south of Casterlin Road, including all properties on Casterlin Road, to the Mendocino / Trinity County Line and east of Dyerville Loop Road and Bell Springs Road to the county line
.
Evacuation Warnings are in effect for areas west of Bell Springs Road to Highway 101 spanning from Elk Creek Road / Dyerville Loop Road to the Mendocino / Trinity County Line in Southern Humboldt County. All areas east of Alderpoint Road spanning from Highway 36 to Casterlin Road, not including all properties on Casterlin Road.
The Evacuation Point is the Humboldt County Fairgrounds, 1250 5th St. in Ferndale and the evacuation line for Humboldt County residents is 707-268-2500.
Smoke outlooks for the surrounding areas continue to be unhealthy, with southwestern winds possibly helping conditions later in the day as a slow clearing trend expected to begin tomorrow.
According to a Humboldt OES release, crews continue working today to keep the fire east of the Eel River and out of the county away from populated areas. Cal Fire has established a fire information line for questions related to fire activity, containment and resources. Cal Fire August Complex West Fire Information Line: (707) 355-4926.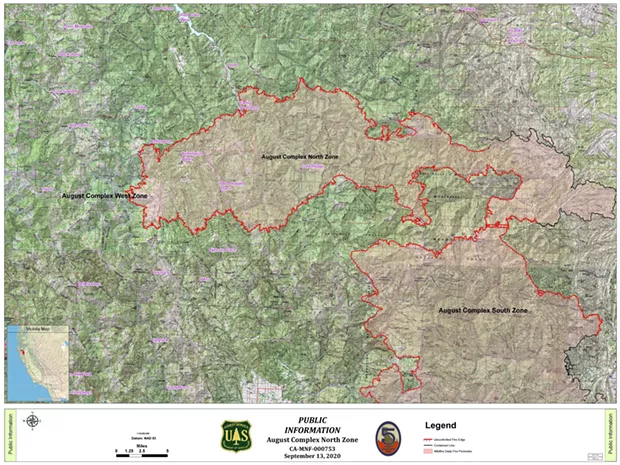 Read the full update below:
USDA Forest Service and CAL FIRE are engaged in a coordinated response to manage and suppress the August Complex. The Complex has been divided into three zones; North, South and West. Geographically, the North Zone is in the northern area of the Mendocino National Forest in the Yolla Bolly Wilderness; near Tomhead Lookout on the Shasta-Trinity National Forest; and in the northwest near Kettenpom Valley and the Flying AA Ranch on the Six Rivers National Forest.

Current Situation (August Complex-North Zone): Conditions today will be dry, windy and with less smoke which will influence fire behavior.

The priority in the North Zone is structure protection, indirect line construction (away from the fire's edge) and tactical firing operations (applying fire on the ground to remove vegetation and widen containment lines). In Ruth Valley, south of Ruth (Six Rivers National Forest), the fire has become established above the Ruth Community Church and northeast of Horse Ridge Lookout. As the fire continues to move northeast, firefighters will engage and do structure defense around the homes along the Ruth Lake Road.

On the west perimeter of the fire (Zenia Area), dozers are being used to construct indirect lines on Road 3S09 to Zenia Lake Mtn Road (3S21). Crews are working to complete hand lines to the Middle Fork of the Eel River.

On the northeast perimeter (Shasta-Trinity National Forest), the 35 Road continues to be an important strategic containment line to stop the progress of the fire. Crews continue working from Rat Trap to the east, improving the line and using tactical firing operations.

The east perimeter near Red Bluff is in mop-up and patrol status. A ten-person crew of smokejumpers will be utilized on the north portion of the fire to assess historic structures in the area.

Weather: A trough of low pressure will bring gusty south-southwest winds over the area. The winds combined with the low relative humidity will create elevated fire weather conditions.

Smoke Outlook: Air quality remains unhealthy in many areas, with very unhealthy air overnight in foothill areas strongly affected by settling of down drainage smoke. Slightly stronger southerly winds may bring some gradual improvements today, with southwesterly winds continuing the slow clearing trend tomorrow.
Incident Information Line:(530) 628-0039 8:00 am – 8:00 pm

Incident Email: 2020.Elkhorn@firenet.gov @ShastaTrinityNF @SixRiversNF @MendocinoNF @ShastaTrinityNF @SixRiversNF @MendocinoNF

Incident Website: inciweb.nwgc.gov/incident/7071

Evacuation Orders and Warnings for Mendocino, Humboldt, Tehama and Trinity Counties.

Mendocino County: Evacuation Orders • Zone S - South of County Line, East of Bell Springs Rd, North of Bell Springs Creek and West of the North Fork of the Eel River. • Zone Q - South of the County Line, West and North of the North Fork of the Eel River and North and East of Bald Mountain Rd. Evacuation Warnings • Zone U - South of the County Line, East and North of the East Branch of the South Fork of the Eel River, West of Bell Springs Rd. • Zone T - South of Bell Springs Cekk, East of Bell Springs Rd, North of Iron Peak and Simmerly Rd, West of the Eel River. • Zone R - West of south Mina Rd, South of the North Fork of Eel River, East of the Eel River. • Zone P - South of the County Line, East of the Mina Rd, North of Hulls Valley Rd and West of Hulls Creek. • Zone O - South of the County Line, East of Hulls Creek, North of Mendocino Pass Rd, and West of Williams Creek.

Evacuation Point: Covelo High School, 76280 High School Street, Covelo, CA Small/Large Animal and Livestock Care: Covelo Rodeo Grounds, 77286 Covelo Rd, Covelo, CA. Laytonville Rodeo Grounds are open for livestock (Harwood Rd, Laytonville, CA).

Trinity County: Evacuation Orders • Ruth, Zenia, Kettenpom, Hettenshaw Valley • The southeast area of Ruth Lake up to and including Journey's End Evacuation Warnings • Mad River, Forest Glen and Post Mountain • The North area of Ruth Lake from Journey's End to Highway 36

Evacuation Point: Humboldt County Fairgrounds, 1250 5th Street, Ferndale, CA 95536

Humboldt County: Evacuation Line for Humboldt County residents is 707-268-2500.

Evacuation Orders • Areas south of Highway 36 in Bridgeville, and all communities along Alderpoint Road down to the Mendocino/Trinity County Line.

Evacuation Warnings • Areas west of Bell Springs Road to Highway 101 spanning from Alderpoint Road to the Mendocino/Trinity County Line (including Garberville). • Alderpoint, Palo Verde, Island Mountain and Harris Forest

Closures: Shasta-Trinity, Mendocino, and Six Rivers National Forests. Due to unprecedented and historic fire conditions throughout the state, the USDA Forest Service Pacific Southwest Region has closed all 18 national forests in California. This includes the Mendocino, Shasta- Trinity and Six Rivers National Forests. It is critical that all national forest visitors follow these important closures and restrictions for their own safety and the safety of our firefighters.

Cooperating Agencies: Trinity County Sheriff's Office, Humboldt County Sheriff's Office, Mendocino Sheriff's Office, California Highway Patrol, National Weather Service, BLM, Cal OES, CALFIRE Safety Message: Smoke will limit visibility while driving, please use caution as firefighters and equipment are working in the fire area. Wildfire Preparedness: Plan, Know and Act. Please be ready if a wildfire nears your property or community. For more information visit the following webs at: www.readyforwildfire.org/