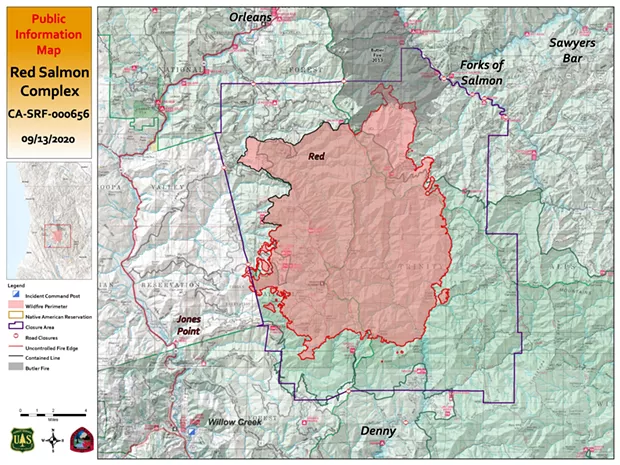 The Red Salmon Complex in the Klamath, Six Rivers, and Shasta-Trinity national forests within Humboldt, Trinity and Siskiyou counties now stands at 87, 782 acres with 16 percent containment. However, as this morning's update from the USDA states, progress is being made.
"Multiple small victories have been recorded by fire crews in the last several days.
Night shift operations, coupled with cooperative daytime weather, have allowed significant progress to be made on tactical burnout operations along the fire's west flank. The completed work has strengthened fireline off the 10N02 road. The line adds protection to the Hoopa Reservation and additional firing operations moving southward will further protect Willow Creek, Salyer, and other communities," the update reads.
Air quality continues to be significantly affected by the fires with heavy smoke keeping levels in the 'Very Unhealthy' and 'Hazardous' range from Crescent City to Eureka, and inland in the areas of Happy Camp, Orleans, Weitchpec, the Forks of Salmon, Hoopa Valley and Willow Creek and to the south in Garberville and Redway. Read more about the air quality warning
here
.
The update also states that the Trinity County Sheriff's Office has lifted the evacuation warning for Denny, but the Siskiyou County Sheriff's Office has issued an evacuation warning for all of Forks of Salmon from Butler Flat to 10 miles east of Forks of Salmon and south to Plummer Creek on Cecilville Road.
Read the full update here:
See related PDF
See related PDF