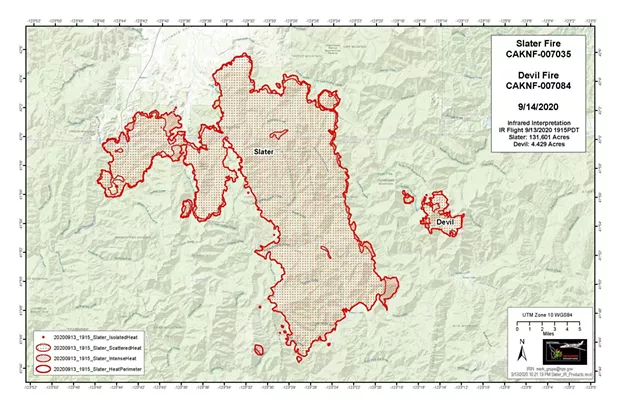 The Slater Fire, which straddles the Oregon-California border and spans south to Happy Camp, and the Devil Fire to the east continued to grow yesterday.
The Slater Fire is now estimated to be 131,601 acres and 5 percent contained while the Devil Fire is estimated to be 4,429 acres and is 0 percent contained.
The Del Norte County Sheriff's Office updated evacuation information earlier today, with everything from Pioneer Road to the state line moved to Level 2 "Be Set," Gasquet reduced to Level 1 "Be Ready" and Hiouchi no longer under an evacuation warning
Big Flat remains at Level 1 "Be Ready"
Highway 199 remains closed from O'Brien south almost to Gasquet and State Route 96 remains closed from Portuguese Creek to Clear Creek. Where the fire is burning between Happy Camp and Seiad, some rocks came down on roadway, according to the update.
In the Gasquet area, firefighters focused on protecting homes and other structures to the southwest along Knopki Creek and strengthen control lines along Monkey Ridge and Oregon Mountain Road to prevent the fire's westward spread.
"Since the fire crossed to the west side of Highway 199, fire managers are now adjusting their control strategy and falling back to employ different control points further to the northwest," the update states. "A local crew, the Smith River Hotshots, have been assigned to the Slater Fire."

To the north, the Slater Fire has moved closer to Williams, Oregon, and firefighters are working to protect local communities there and are preparing to defend the Oregon Caves National Monument.
Crews were able to prevent any structures from being damaged or destroyed overnight in the Cedar Creek, Dwight Creek and Elk Creek areas, according to this morning's update.
Read the full update below:



HAPPY CAMP, CALIFORNIA — The Slater Fire continued to back and flank at lower elevations in both California and Oregon yesterday. Fire activity remained relatively moderate in places that remained under the smoke inversion, but increased in places where the inversion lifted, especially on the Oregon side. Both the north and south edges of the fire experienced some spotting last night. In Cedar Creek, Dwight Creek, and Elk Creek areas, fire-suppression efforts focused successfully protection around structures and utilities – no structures were damaged or destroyed overnight. The fire burned with less intensity around the Holland Loop area, so emphasis shifted to strengthening indirect firelines to increase community protection.

Crews mopped up around hand and dozer lines down to Highway 96 along the fire's eastern edge, reinforcing those control lines overnight. Fire burning near Highway 96 between Happy Camp and Seiad caused some rocks to roll onto the road. Firefighters are securing line west from China Point towards Happy Camp. Work to defend constructed fire lines around structures at Thompson Creek is ongoing as the Slater Fire approaches that neighborhood from the west and the Devil Fire burns to the northeast.

Operational priorities on the south side of the fire for today remain point protection around structures and utilities, and detecting and containing any spots across the highway or ahead of the main fire. Fire personnel are hiking into the Devil Fire again today looking for places to contain the fire along the Pacific Crest Trail, with the goal of keeping that fire west of Seiad Creek and out of the Applegate River.

Near Gasquet, crews focused on structure protection to the southwest along Knopki Creek. Firefighters worked to strengthen control lines along Monkey Ridge and Oregon Mountain Road to prevent the fire's spread west. Since the fire crossed to the west side of Highway 199, fire managers are now adjusting their control strategy and falling back to employ different control points further to the northwest. A local crew, the Smith River Hotshots, have been assigned to the Slater Fire.

Along the west side of the fire, Siskiyou Mountain Ranger District initial attack firefighting resources have continued to prep the 1040 road in the event that the Devil Fire should work its way out of the Red Buttes Wilderness. Portions of the 1040 road were treated in 2017 during the Miller Complex. With increased humidity, the Miller Complex Fire scar should slow or stop fire spread towards the Applegate Valley. The Slater Fire has not made it into Steve's Fork; fire personnel scouted the area several days ago and completed a full reconnaissance before the smoke settled in. The Slater Fire is currently eight to ten miles from Williams, Oregon. Firefighting resources are scouting for the best places to put in direct, indirect and contingency lines to protect communities in this area. Firefighters are preparing Oregon Caves National Monument to protect it from the Slater Fire.

Winds out of the east have caused smoke impacts from the Slater and Devil Fires that have extended to the coast. Smoke continues to impact most of the west coast due to multiple large fires. The cool, wet smoke inversion is likely to remain into this afternoon, forecasts say. The inversion could begin mixing up into the atmosphere later this afternoon or tomorrow. Meanwhile, winds today are blowing 15 miles per hour on ridgetops. This could affect fire behavior at higher elevations in the Slater Fire's interior and on the Devil Fire.

Due to a record number of wildfires burning across the West and resulting resource drawdown, fire managers are moving resources around to respond to the highest threats to life and property on the Slater Fire. The Devil Fire is estimated at 4,429 acres,and is 0% contained. The Slater Fire is estimated at 131,601 acres, and is 5% contained.

Incident Management Team 10 is readying to transfer command of the northern and western sides of the Slater Fire to an incoming Type 1 Team, while retaining command of the south and east sides of the Slater Fire and all of the Devil Fire.

Due to extreme fire danger, all National Forests in California have been closed from September 9 through 14, 2020. More details on these closure orders, along with fire restrictions orders, can be found on National Forest websites and on InciWeb.

As a result of extreme fire activity, the Bureau of Land Management Medford District has temporarily closed all BLM-administered public lands south of Grants Pass, Interstate 5, and U.S. Route 199 to the border of the Rogue River-Siskiyou National Forest. Maps of the closure areas are available on the Bureau of Land Management's website: https://www.blm.gov/programs/public-safety-and-fire/fire-and-aviation/regional-info/oregon-washington/fire-restrictions.

Highway 199 remains closed from O'Brien south almost to Gasquet. Highway 96 remains closed from Portuguese Creek to Clear Creek.

EVACUATION INFORMATION:

Current evacuation orders are posted on Siskiyou County Sheriff's Office Facebook page at www.facebook.com/SiskiyouCountySheriff/.

For Del Norte County evacuation information, see www.facebook.com/DelNorteOfficeOfEmergencyServices.

Evacuation order/warning info and other resources for Josephine County can be found by calling Josephine County Fire Information Center 541-474-5305 (7am-10pm) or online at:

https://www.facebook.com/josephinecountyEM, https://www.co.josephine.or.us/fire, or www.rvem.org