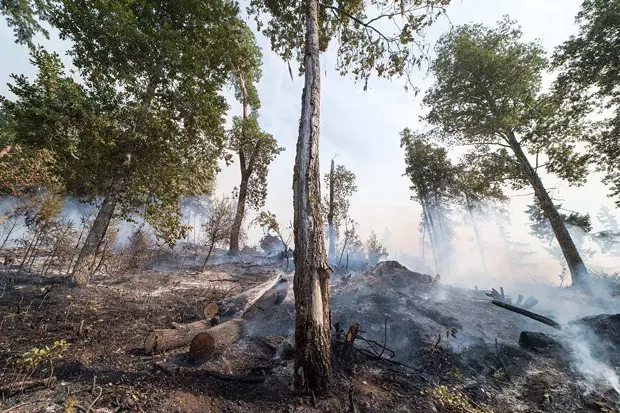 Red Salmon Complex/Facebook
Red Salmon Complex
The fire complex burning about 8 miles northeast of Willow Creek has grown to 108,244 acres and is 31 percent contained.
Light rainfall and moist conditions slowed fire growth, but have also limited fire crews' ability to conduct firing and burning activities to further contain the blaze.
"Fire activity was somewhat repressed as the weather front passed over the area in the early morning," the update reports. "As fuels dried out, afternoon activity picked up, especially on the east side of the fire that received less moisture. As fuels continue to dry, fire activity is expected to increase."
Read the full update
here
.
Slater and Devil Fires
The fires, which are burning close together along the Oregon-California border, have combined to cover more than 160,000 acres with less than 25 percent containment, and have burned 438 structures, including 197 homes.
"With the recent precipitation, fire behavior decreased," and update states before warning that temperatures are forecast to increase in the coming days with potentially gusty winds.
Much of the fire activity has been on the north side of the fire, according to the update, and crews continue to work to protect structures on the north side of Highway 199. On the south side of the fire, mop up activities continue around Happy Camp and crews continue to construct fire lines north of Thompson Creek.
Read the full update
here
.
The August Complex
The biggest fire in California history now spans 867,000 acres across multiple counties, with 40-percent containment.
State Route 36 has been closed from the junction with State Route 3 to South Fork Mountain Road, and the closure is expected to last through the weekend.
"Firefighters have been using strategic firing operations to reduce unburned fuels between Rattlesnake Ridge and South Fork Trinity River," the update states. "Whether conditions permitting, firefighters plan to use similar tactics today to reduce unburned fuels east of Forest Glen, between the fire and State Route 36. Increased fire traffic and smoky conditions have closed the highway as firefighters work to complete this critical portion of fireline."
Crews are also working "day and night" to complete the wirelines above Ruth Lake ahead of a forecasted shift in the wind, the update states.
"This is an area of prime concern, with the predicted wind shift and critical fire weather expected this weekend," it states.
Evacuation orders remain in place for Ruth, Ruth Lake, Forest Glen, Trinity Pines, Post Mountain and Three Forks in Trinity County, with warnings in place for Mad River, Hattenshaw Valley, the area north of Ruth Lake to Journey's End on State Route 36, Zenia and Kettenpom.
Read the full update
here
.