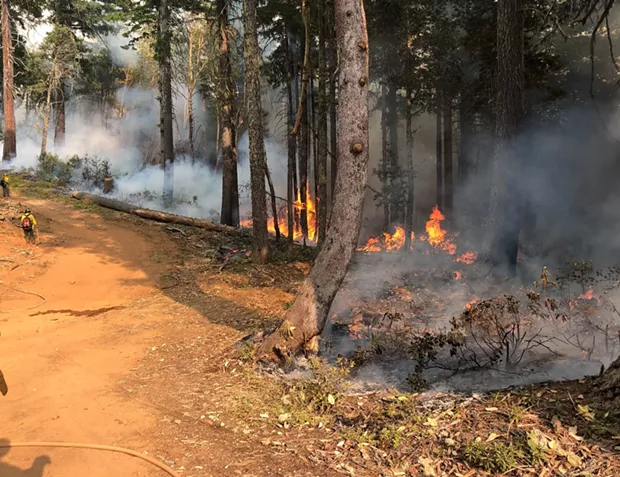 RED SALMON COMPLEX FACEBOOK PAGE
Photo of the Red Salmon Complex.
Six Rivers and Klamath national forests are among nine in California that will remain closed indefinitely due to "unprecedented and historic fire conditions," the U.S. Forest Service announced this morning.
The closures will be reevaluated daily as conditions change, according to a press release.
"Right now, there are three large wildfires burning on the Six Rivers," Six Rivers National Forest Supervisor Ted McArthur said in the release. "It's critical that everyone follows these closures and restrictions for their own safety and the safety of our firefighters. We understand that everyone wants to get out on the forest, especially now that it's hunting season, but we need to reduce the possibility of any new fire starts. We appreciate everyone's understanding and patience with this closure."
The Red Salmon Complex has now spread to 108,165 acres, including a portions of Six Rivers and Klamath national forests, and is 27 percent contained. The Slater fire to the north, meanwhile, has spread to more than 152,000 acres, including a portion of Klamath National Forest, with 25 percent containment.
Read the full release from the U.S. Forest Service copied below.

Six Rivers, eight other California national forests to remain temporarily closed

EUREKA, Calif. – With much of California still under threat from unprecedented and historic fire conditions—a combination of extreme heat, significant wind events, dry conditions, and firefighting resources that are stretched to the limit—the USDA Forest Service Pacific Southwest Region has announced that nine national forests throughout the region, including the Six Rivers National Forest, will remain temporarily closed. This temporary closure will be reevaluated daily as conditions change.

Other national forests in the region that remain temporarily closed under Regional Order 20-17 (www.fs.usda.gov/Internet/FSE_DOCUMENTS/fseprd810959.pdf), include the Angeles, Cleveland, Los Padres, San Bernardino, Inyo, Sequoia, Sierra and Klamath national forests.

In addition to the regional closures, fire restrictions remain in effect for all national forests in the region to reduce the potential for human-caused fire starts. These restrictions prohibit building, maintaining, attending, or using a fire, campfire, or stove. See Regional Order 20-16 (www.fs.usda.gov/Internet/FSE_DOCUMENTS/fseprd810958.pdf) for additional information.

"Right now, there are three large wildfires burning on the Six Rivers. It's critical that everyone follows these closures and restrictions for their own safety and the safety of our firefighters," said Ted McArthur, forest supervisor for the Six Rivers National Forest. "We understand that everyone wants to get out on the forest, especially now that it's hunting season, but we need to reduce the possibility of any new fire starts. We appreciate everyone's understanding and patience with this closure."

Fires burning partially on the Six Rivers include the Slater Fire (https://inciweb.nwcg.gov/incident/7173/), Red Salmon Complex (https://inciweb.nwcg.gov/incident/6891/), and August Complex (https://inciweb.nwcg.gov/incident/6983/).

# # #