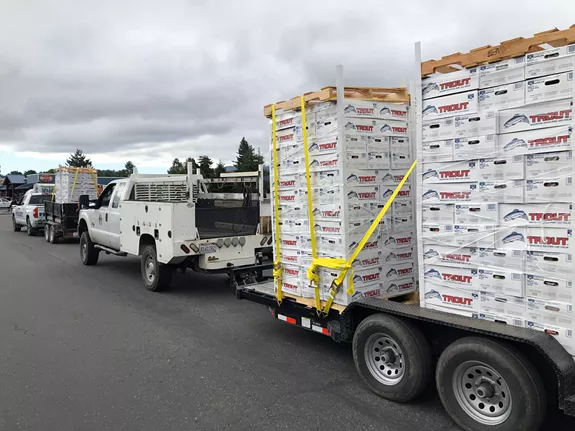 Blue Lake Rancheria/Facebook
The Blue Lake Rancheria stepped up to help a neighbor in need this week, delivering more than 10,000 pounds of food to the Karuk Tribe to help its tribal members who have been impacted by the
Slater Fire
.
"Our office of emergency services delivered the USDA food boxes this week to help alleviate needed resources in the area, and we are honored to help in ways we can," Blue Lake Rancheria said in a Facebook post. "The Blue Lake Rancheria Tribe has been chosen as a distribution point in the region for 5,467 USDSA food boxes. The Blue Lake Rancheria Office of Emergency Services coordinated this effort with the National Tribal Emergency Management Council and Farmer Frog — the organizations are coordinating the delivery of food boxes to tribes and communities in need all over the nation."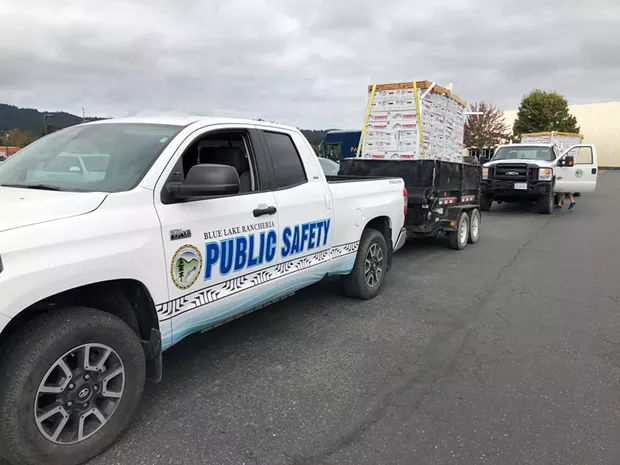 Blue Lake Rancheria/Facebook
The Blue Lake Rancheria delivered more than 10,000 pounds of food to Karuk tribal members this week.
The Karuk Tribe declared a state of emergency Sept. 16, saying that many of the 150 homes the Slater Fire had destroyed to that point "belong to Karuk Tribal members and their families."
"This fire is devastating our Tribe and our community," said Tribal Chair Russell 'Buster' Atterbery in a press release. "The fire moved so fast that folks had little time to collect essentials before fleeing for their lives. A lot of people have nothing left but the clothes on their backs."
The tribe announced Wednesday that it had procured a "limited number" of temporary housing trailers for Tribal elders and other members who are displaced or were recently made homeless due to the fire. (Those in need can find a trailer application
here
.)
This week, the Tribe also established a Slater Fire Relief Fund to direct aid to impacted families in the Karuk Tribal community. Tax deductible donations can be made
here
.