Mark McKenna
The Jeep sustained major damage in the crash.
There was a fatal crash on Herrick Avenue west of the Eureka Municipal Golf Course this morning when a Jeep struck a parked Dodge Ram pickup truck.
Officers investigating the crash don't yet know what time it occurred, according to Sgt. Mike Campbell with the California Highway Patrol.
Cambell said the victim was driving eastbound in the 300 block of Herrick Avenue when his vehicle left the roadway, narrowly missed a telephone pole, and struckthe parked pickup, which was attached to a trailer.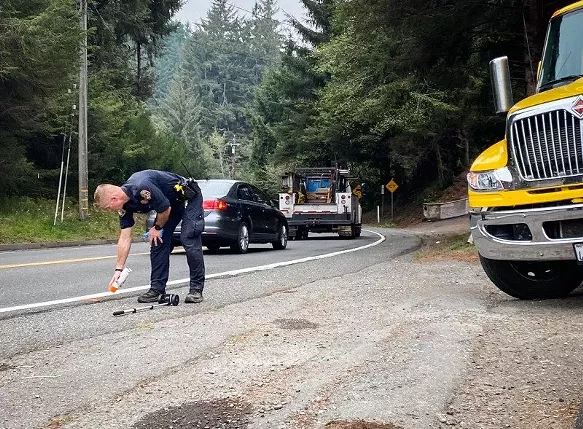 Mark McKenna
CHP Sgt. Mike Campbell talks with an officer at the scene of the crash.
Officers investigating have been canvassing the neighbors. Nobody heard the accident and nobody saw it prior to the 7:08 a.m. report. CHP is unsure at this time when the accident occurred.
According to Brittany Powell, spokesperson for the Eureka Police Department, around 4:30 a.m., dispatch received a call from a wife asking to help locate her husband, the driver of the Jeep, who had called her sounding disoriented.
"She asked that we patrol check and help look for him," Powell told us. "A family member was attempting to find [the man]."