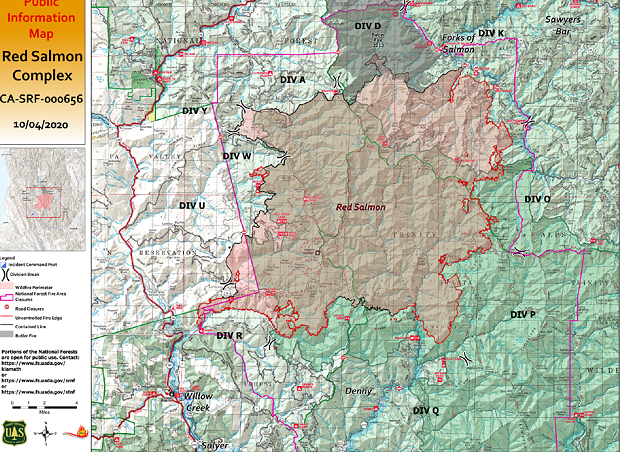 Red Salmon Complex: 132,065 acres and 33 percent containment
The Red Salmon Complex started the morning of July 27 in the Trinity Alps Wilderness Area. The fire is burning on the Klamath, Six Rivers and Shasta-Trinity National Forests in Humboldt, Siskiyou, and Trinity Counties. Communities near the fire include Hoopa Valley, Willow Creek, Salyer, Trinity Village, Denny, Forks of Salmon, Orleans and Cecilville.
Fire crews reported that fire activity died down a bit overnight in the east portion of the fire and continued to back down near Knownothing Creek.
"The fire has filled in around Knownothing Creek and is approaching the South Fork of the Salmon River as planned," the update reads. "Additional crews have been brought in to continue structure protection in the Godfrey/Black Bear/Blue Ridge area and around Cecilville. Firefighters have identified areas to put in line to protect and defend Summerville."
An additional dozer was brought in to strengthen and aid ongoing fireline construction between Miller Ranch and the fire.
No significant weather changes are expected today. Low temperatures should range from the mid-50s to the mid-60s with highs from the lower 70s to the lower 80s. Smoke from the fire is causing poor air quality and visibility. Motorists are advised to use caution.
Find more information about the
Red Salmon Complex here
.
And read the full press releases below:
See related PDF
See related PDF