A report from the North Coast Unified Air Quality Management District states that smoke impacts are expected to be hazardous in Hoopa, Willow Creek and the Bridgeville area over the next 24 hours.
Warm, dry and stagnant weather conditions are continuing to trap smoke from the Red Salmon Complex fire at lower elevations, especially near the fire. These conditions are expected to remain in place through tomorrow.
Smoke from the August Complex fire is still in the valleys, especially in inland communities closest to the fire. Light winds today aren't strong enough to clear the smoke from previous days and additional smoke is expected to be added today, especially in the Mad River and Eel River drainages.
Rio Dell to Trinidad areas will see mostly moderate conditons with periods of unhealthy air quality for sensitive groups, Orleans and Weitchpec very unhealthy, Hoopa, Willow Creek and Bridgeville will see hazardous air quality and Garberville and Redway will see unhealthy to very unhealthy conditions.
The Hoopa Valley Tribal Council has granted administrative leave to all nonessential workers due to the hazardous air quality in Hoopa.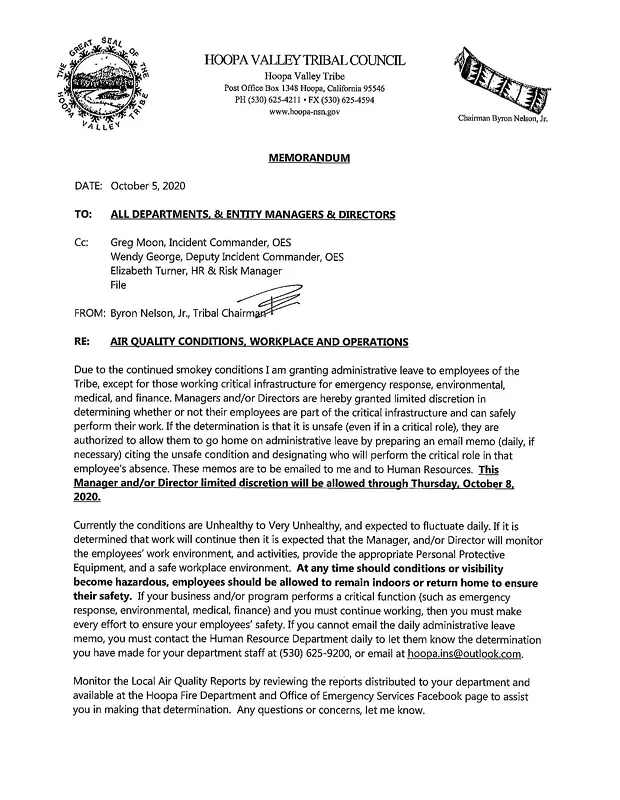 Red Salmon Complex — 134,936 acres, 34 percent containment


Fire crews are working to bring the fire slowly and methodically down to the South Fork of the Salmon River, improve indirect firelines south of
Cecilville (Barefoot Ridge) and south of Summerville (China Ridge). Crews will take down hazard trees and remove the debris along Cecilville road to provide firefighter and public safety and continue structure protection
measures while also continuing road repair in northwest areas of the fire.
According to today's report, Cecilville Road may be temporarily closed due to firefighting equipment, poor visibility, and hazard tree mitigation.
West of the fire, crews will continue defensive burning operations in Colgrove Branch of Mill Creek as conditions allow and continue road repair work.
August Complex — <!————StartFragment————> 1,006,140 acres, 58 percent containment


In the Northwest zone, from State Route 36 downhill to Ruth Lake, containment lines will be secured to keep the fire from moving northwest. Firefighters will work to secure a new dozer line north of Journey's End and structure groups will continue to protect buildings as the fire moves downhill. Fire personnel will be working on dozer lines and contingency lines from the west side of Ruth Lake, through the previous Gobbler and Lassics Fires to below Mule Ridge.
Near Salt Creek, crews will improve containment lines around Litle Round Mountain to hold the fire north of Ketenpom with CAL FIRE.
Areas east of Alderpoint Road to the Trinity County border and south of Showers Pass Road to Mountain Creek in Humboldt County have been issued an evacuation warning.
Slater fire — 155,287 acres and 65 percent containment

The forest management agencies and Northwest incident management are asking residents on roads around the fire, especially in the Holland Loop Road and
Takilma areas to slow down as there have been near-miss vehicle accidents
" There are numerous fire vehicles on the road, increasing local traffic. Please
drive defensively and remain mindful of the current situation. There are lots of moving parts and we want to keep all firefighters and residents safe," states the update.
Firefighters are working to keep the fire contained east of Chicago Creek, in the Knopki and Chicago Creek drainages. Additional crews are being assigned to this area to strengthen containment lines against the incoming period of warmer,
drier weather.
Devil fire — 8,693 acres and 30 percent containment


Fire crews are continuing mop-up and patrol in the northern and southern areas of the fire, with lines holding along the Butte Fork of the Applegate River, 1040 Road, and Pacific Crest Trail. Crews will patrol the southeast flank, building a fire line into the Fort Goff Creek area.
On both the Devil and Slater Fires, the public can expect to see smoke from firing operations, as well as fuels that continue to burn and smolder in the interior of the fire. Interior burning will continue until season-ending weather comes.
Read the full updates below.
Air Quality Update
See related PDF
Red Salmon Complex
See related PDF
August Complex
See related PDF
Slater Devil fire
See related PDF