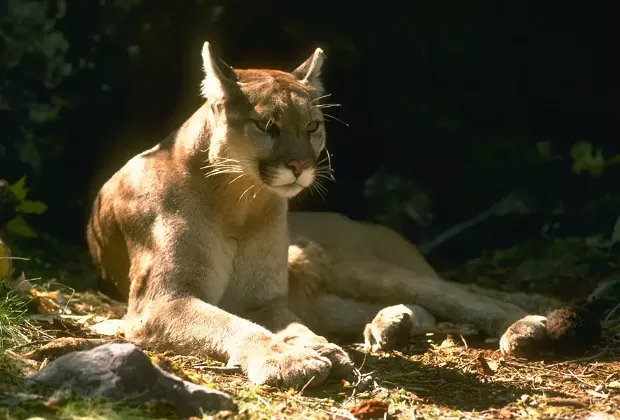 California Department of Fish and Wildlife/File
A mountain lion, like this one, was protecting her cubs, not stalking a runner who came along the family in Provo, Utah.
Chances are most people have seen — or at least heard about — the now viral video of a Utah man who went for a run in a Provo canyon and ended up finding himself face to face with a very angry mama mountain lion.
For six tense and profanity-laced minutes, Kyle Burgess kept filming with his cellphone as he backed away from the cougar, sometimes cussing and other times telling her she needed to go back to her babies, which he had inadvertently stumbled upon on a trail.
"I don't feel like dying today," Burgess says at one point in the video posted to his Instagram account.

(Note: He's OK but had to traverse the same area of the encounter to get back to his car, according to an interview in the Deseret News.)
But, to be clear, this was not a mountain lion on the prowl but a mother protecting her young and making it clear to an unwelcomed visitor in her territory that it was time to get (we can only imagine she would have added a certain expletive here) out, as John "Griff" Griffith, a local naturalist and guide for California State Parks attests to in a recent Facebook video post about the misconception.
"I know a little something about mountain lions," he says, while taking many a media outlet to task for labeling her behavior as "stalking" in a riff that skirts the conspiracy theory line of why that happened. "That was not a mountain lion stalking. That was a mama mountain lion trying to get someone away from her cubs. There is a difference."
Griffith notes that Humboldt County is mountain lion country — panning to a shot of Humboldt Redwoods State Park where he says he sees their tracks — but even though they are around us all the time, the likelihood is most people will never see one. And that is the way they like it.

Mountain lion attacks are very rare, he says, and if it's going to happen, it will be stealthy, not be with the paw-pounding display the Utah cougar put on for Burgess.
"They are going to attack you usually from behind," says Griffith, a popular producer of videos about the North Coast parks, who himself went viral in the past with a posting of him dancing with California Conservation Corp crew and hosted the online show Wild Jobs for Animal Planet.
That was the case of former Fortuna resident Jim Hamm, who made international headlines after he barely survived a 2007 attack that occurred during a hike with his wife Nell in Prairie Creek Redwoods State Park, where she fought off the mountain lion with a pen and a branch.
Screenshot of Denver Post
This Times-Standard photo went viral after the attack.
Jim Hamm died a year ago this week of pancreatic cancer. He was 82.
Griffith says he's only seen a mountain lion a handful of times, but if you do encounter one, there are basic rules to follow, including make yourself seem as large as possible, make noise, keep eye contact and slowly create space away from the animal. Never run away.

In that regard, Griffith says Burgess did just about everything right.
"The only thing he did wrong was not having a partner," he says.
For more information on mountain lions, Griffith suggests visiting mountainlionfoundation.org and cougarconservancy.org.