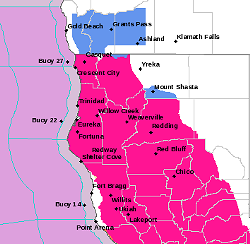 PG&E announced today that plans for a
Public Safety Power Shutoff
are going forward due to a forecasted high wind event coupled with low humidity.
An estimated 187 Humboldt customers in the Bridgeville, Blocksburg and Alderpoint areas are expected to be affected beginning around 4 p.m. tomorrow and lasting through until 10 p.m. Friday.
More than 50,000 customers in 24 counties are slated to lose power.

The Eureka office of the National Weather Service has issued a red flag warning that goes into effect at 11 p.m. and lasts until Friday at 11 a.m.
According to PG&E spokesperson Deanna Contreras, a Customer Resource Center will operate at the Bridgeville Community Center from noon to 10 p.m. Thursday and 8 a.m. to 10 p.m. on Friday at 38717 Kneeland Road.
Those impacted can also contact Food for People to have their groceries replaced during a PSPS outage and three days following power being restored. For more information,
click here
and, about halfway down the page, find a dropdown menu labeled "Find your local food bank."