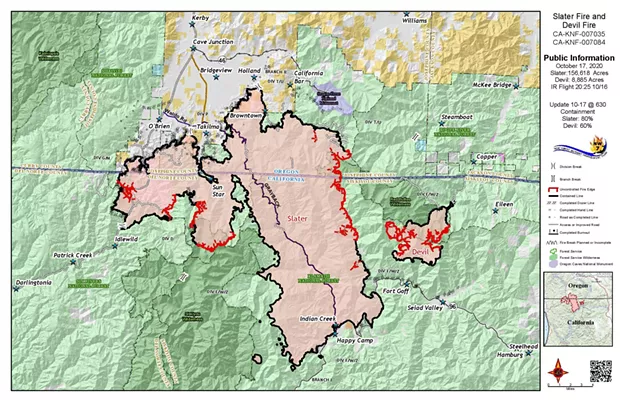 Slater and Devil Fires: 156,618 acres Containment: 80 percent

While pressed during the red flag conditions over the last two days, containment lines of the Slater Fire, which saw moderate activity, due in part to residual moisture from recent rains, held.
"Aerial and ground observers reported little fire activity near the perimeter," the latest update stats. "Patrols will continue along containment lines today." Near Swan Peak, line are being secured while over around the Knopki and Chicago Creek drainages, water drops are continuing to hit hot spots.
"Containment is improving in this area, and crews are making good progress connecting containment lines to the 2018 Natchez Fire footprint," the update states. "Aviation assets remain available for reconnaissance and bucket operations as needed."
Tree removal is continuing along "Grayback Road, which fire managers are emphasizing is closed to the public along with other roads due to safety concerns, "with one team working from Happy Camp north toward Oregon, and another from the north end of the road working southward."
The Devil Fire remains in patrol status using air and drone surveillance.
Evacuations remain in place for the intersection of Indian Meadows Road and Indian Creek Road in Happy Camp. Read more about the Slater-Devil Fires
here
.