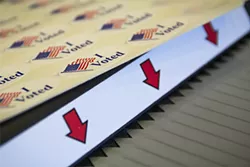 File
Candidates, it's time to turn in those nomination papers.
Roughly a quarter of Humboldt County's registered voters have already cast ballots, according to Registrar of Voters Kelly Sanders.
With the state having pivoted to an all vote-by-mail election and officials having urged voters to get their ballots filled out and in the mail — or one of the official ballot drop boxes located throughout the county — as early as possible, Sanders said about 25 percent of ballots issued in Humboldt County have already been returned with almost two weeks still remaining before Election Day. That equals about 20,500 ballots submitted locally so far. For context, that's about a third of the almost 61,000 cast in 2016.
For all you need to know about casting a ballot amid this COVID-19 pandemic — including how to check registration status, register, turn in your ballot or vote in person — see prior
Journal
coverage
here
.