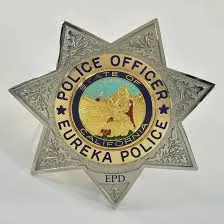 The Eureka Police Department is looking for two white male adults and a woman in a white 2003 Chevy Tahoe after a robbery at the Bayshore Mall around 2 p.m. The vehicle reportedly headed south on Broadway after the robbery.
One of the suspects had a knife and the other may have a firearm, according to the BOLO sent over the scanner.
Please remember that information gathered from initial reports is subject to revision as more facts become available.

Around 2:18 p.m. the vehicle was located at Pine and Wabash but is not occupied, according to an officer speaking over the scanner.
Read a Eureka Police Department release below.
<!—StartFragment—>
On today's date just before 2:00 p.m., officers with the Eureka Police Department responded to the 3300 block of Broadway for the report of a robbery that occurred in the parking lot. Based on the preliminary investigation, it appears the victims and suspects were loosely known to each other and in a vehicle together. For an unknown reason, two males in the vehicle presented a firearm and a knife and demanded money from the victims. The suspects fled in a white 2003 Chevrolet Tahoe with an undisclosed amount of cash.

Officers located the unoccupied suspect vehicle a short time later near Pine and West Wabash. This is an ongoing investigation and officers are working to identify the involved suspects.