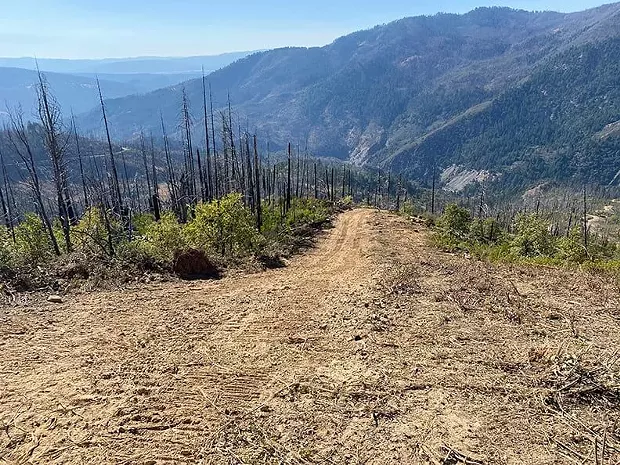 U.S. Forest Service
A fire line on the August Complex.
Crews continue to report good news on the fire front, even as blazes continue to encircle Humboldt County. Here's a quick update on the three fires that have been burning to Humboldt's east, north and south, as well as the one that
sparked
yesterday near Carlotta.
The Redwood Fire, 102 acres, 80 percent contained
CalFire's Humboldt-Del Norte Unit was able to get a quick handle on the fire that started yesterday near Redwood House and Kneeland roads, northwest of Bridgeville. No structures have been threatened by the fire, which crews are battling by building a perimeter and dropping fire retardant from above.
Red Salmon Complex, 143,641 acres, 75 percent contained
Burning 14 miles north of Willow Creek and abutting the Hoopa Valley Reservation, the Red Salmon Complex Fire remains active across Klamath, Six River sand Shasta-Trinity national forest lands.
Fire crews reported that a cold front that moved into the area last night lowered temperatures and increased humidity levels, aicingfire fighting efforts. But a Red Flag warning is expected to go into effect tomorrow morning and stretch into Monday as the humidity lowers and winds pick up.
"Fuel moisture levels remain low allowing the fire to remain active for the near future with moderate fire behavior," an update states. "Rain is not forecast in the immediate future. Smoke impacting the area remains likely due to continued burning in the interior of the fire area."
Crews continue working to fully contain the fire and as containment increases, those efforts will shift toward fire suppression operations. Read more
here
.
August Complex, 1 million acres, 93 percent contained
While the largest wildfire in California history remains active, great strides have been made on its northwestern edge, which had threatened southeastern Humboldt County and prompted evacuations. And fire crews expect cool temperatures with high humidity levels today to further aid suppression efforts.
"The August Complex's western flank is fully contained, except for a section of line near the West Branch of the Van Duzen River," an update states. "Here crews have successfully held the fire within its current footprint and prevented additional growth. Expect containment Sunday, after which the west side of the fire will be fully contained from the south fork of the Trinity River to the Mendocino County line."
All evacuation warnings in Trinity County have been lifted. Read more
here
.

Slater and Red Devil Fires, 156,682 acres with 85 percent containment and 8,885 acres with 65 percent containment, respectively
A weather front moving into the area brings the chance of intermittent light rain and increased humidity levels today before Red Flag conditions are expected Sunday.
"Despite briefly higher humidity, fire activity could increase tomorrow with a potential for surface fire spread in areas that have sustained the most drying," an update states.
An evacuation order remains in effect in Happy Camp and portions of the Klamath, Six Rivers and Rogue River-Siskiyou national forests remain closed. Read the full update
here
.