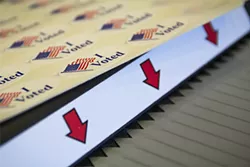 It's Election Day, do you know where your ballot is? No matter the answer, we've got you covered, and you've got time.
As of yesterday, the Humboldt County Elections Office had already received more than 47,000 vote-by-mail ballots, according to Registrar of Voters Kelly Sanders. Additionally, Sanders said 1,010 precinct ballots have been cast at voter assistance centers set up throughout the county since Saturday, with another 200 provisional ballots cast and 662 vote-by-mail ballots dropped off. All told, roughly 49,000 Humboldt County residents have already voted, about 58 percent of those registered. (Total turnout in 2016, for reference, was 60,983 voters, or 74 percent of those eligible.)
Those who have yet to cast their ballot have a number of options. Voter assistance centers will be open in Arcata, Eureka, McKinleyville, Fortuna, Garberville, Hoopa, Willow Creek and Ferndale from 7 a.m. to 8 p.m. today, where voters can drop off their vote-by-mail ballots or vote in person. (Find which location you need to go to
here
.) Those who plan to vote in person must bring their unused vote-by-mail ballot to surrender at the polls or they may have to cast a provisional ballot, Sanders said.
Voters can also put their vote-by-mail ballots in one of the official drop boxes set up throughout the county today (list of locations
here
), or simply drop it in the mail, as ballots postmarked today and received by the Elections office by Nov. 20 will be considered valid and counted.
If you lost your ballot, doused it in coffee or checked a wrong box, we've got answers to all your questions
here
. And if you're not yet registered, it's not too late, but you have to do it in person at the Elections Office (2426 Sixth St. in Eureka) or at one of the voter assistance centers in order to cast a provisional ballot today.
As to when we can expect to start seeing the results roll in, Sanders said it's hard to say. The polls close at 8 p.m. but anyone still in line will be allowed to vote. Given COVID-19 capacity constraints and physical distancing requirements, that could take a while, she said, but once all the voting assistance centers are shut down, the Elections Office will post the first batch of results. This will consist entirely of vote-by-mail ballots received prior to Election Day, with Sanders saying she's hopeful staff will get all 47,000 that had been received as of yesterday in that first tally. Subsequent reports tonight will include ballots cast in person at voting assistance centers. Provisional ballots and vote-by-mail ballots received today will be counted in the coming days or weeks, as they need to be verified before being added to the results.
When Humboldt County results do start flowing tonight, they'll be posted
here
.
Now go vote!