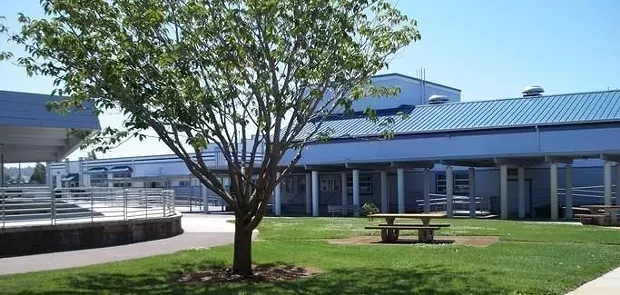 The Fortuna Union High School District decided to continue to offer three learning options, distance learning, in-person and independent study, for its students at a board of trustees meeting on Monday, Nov. 16.
"The board would like to keep these options open for our students and clearly stated that it was the community's responsibility to help our district remain open," reads a letter from the Fortuna Union High School District.
The following day, Humboldt County Public Health Officer Teresa Frankovich sent a letter to the district recommending that schools move solely to distance learning following the Thanksgiving holiday.
<!—StartFragment—>Last week, t
wo Fortuna High School students
had tested positive for COVID-19. According to a letter sent by the superintendent, the two cases were not transmitted through the school's campus.
The decision to continue some in-person classes came at the same time Humboldt County moved from the state's "minimal" (yellow) COVID-19 risk tier to the "substantial" (red) tier.
Humboldt County has seen 141 COVID-19 cases this month, making 711 cases total.
In the letter, FUHSD said it was requesting community members follow the protocols and advisories of the county and state to ensure its ability to remain open for our students.
Read the full letter posted by Fortuna Union High School District below.
<!——StartFragment——>
The Fortuna Union High School District (FUHSD) is proud to be able to offer many educational options: distance learning, in-person and independent study. These options are available because the students, staff and community have been diligent in following the protocols and safety measures to fight the spread of COVID-19. We would like to keep these options open for our students.

On Tuesday, November 17, the district received a letter from the Humboldt County Public Health Officer strongly recommending that schools move to distance learning following Thanksgiving break. On Monday, November 16, the FUHSD Board of Trustees held an emergency meeting where the board unanimously decided to keep our facilities open and continue to offer the three educational options. The board would like to keep these options open for our students and clearly stated that it was the community's responsibility to help our district remain open.

The State of California along with the Humboldt County Public Health Department has issued a nonessential travel advisory. The advisory addresses two different types of travel, outside of California and outside of Humboldt County but within California.

If you travel out of California, the advisory recommends self-quarantine for 14 days upon returning to California. If you travel outside of Humboldt County, but remain in California, the advisory recommends self-quarantine for 14 days after your return if your activities while traveling put you at higher risk of getting COVID-19.

If you must travel, reduce your risk by wearing a face mask and stay six (6) feet away from people you do not live with, avoid spending time indoors with people you don't normally live with to the extent possible, try to limit the number of people you interact with, don't share vehicles with people you don't live with, and avoid or limit holiday meals or gathering with people you don't normally live with. DO NOT travel if you are sick. If you have COVID-19 symptoms, get tested and wait for a negative test before you start your trip.

Anyone becoming ill with possible COVID-19 symptoms should contact their health care provider and isolate at home except to access health care. Other household members should continue their quarantine at home, while awaiting further direction from a health care provider. If a primary care provider is not available or more guidance is desired, please contact local Public Health or the COVID Community Information Line at 707-441-5000.

FUHSD is requesting you follow the protocols and advisories of the county and state to ensure our ability to remain open for our students.

We are all in this together,

Charles Ellebrecht FUHSD Board President

<!——EndFragment——>