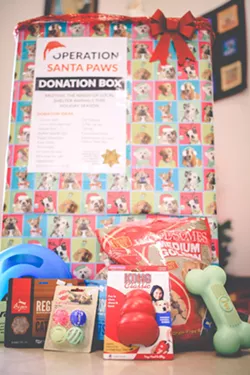 HCSO
Operation Santa Paws
The Humboldt County Sheriff's Office has partnered with local businesses to bring holiday cheer to Humboldt County shelter animals as part of Operation Santa Paws.
"Operation Santa Paws is a holiday collection drive for shelter and rescue dogs, bringing needed toys, treats and supplies to our local animal rescues as well as to the Humboldt County Animal Shelter," reads an HCSO release.
People looking to make donations can drop them off at Safeway, NorCal Pet Supply, Redway Feed & Garden Supply, Humboldt County Sheriff's offices in Eureka or McKinleyville or the Humboldt County Animal Shelter in McKinleyville. Donations will be accepted until Dec. 23.
All the donations will be divided equally between all Humboldt County animal shelters.
Read the full press release below.
HCSO teams up with local businesses to support shelter animals this Christmas

The Humboldt County Sheriff's Office is teaming up with Safeway and two local businesses to bring holiday cheer to shelter animals as part of Operation Santa Paws.

Operation Santa Paws is a holiday collection drive for shelter and rescue dogs, bringing needed toys, treats and supplies to our local animal rescues as well as to the Humboldt County Animal Shelter. Anyone in the community can participate in this collection drive by dropping off a donation in the designated collection bin at one of the following locations:

Your local Safeway
Nor Cal Pet Supply - 1580 Nursery Way, McKinleyville.
Offering a discount for items being donated in store.
Redway Feed, Garden & Pet Supply- 290 Briceland Rd, Redway
Humboldt County Sheriff's Office Main Station – 826 4th Street, Eureka
Humboldt County Sheriff's Office McKinleyville Substation - 1608 Pickett Rd, McKinleyville
Humboldt County Animal Shelter - 980 Lycoming Ave, McKinleyville
The collection will end December 23, 2020, and donations will be split equally between our local shelters and rescues.

Some of the needs identified by our local animal rescue organizations include:



Chuckit! balls
Bully sticks
Cat tunnels
Heavy-duty rope toys
Tennis balls
3-Tier cat toy
Squeak toys
Fur mice for cats Cat nip
Stuffed squeak toys
Stick toys for cats
Canned pet food
Puppy chew toys
Giggle balls
Subscription to super chewer Bark Box