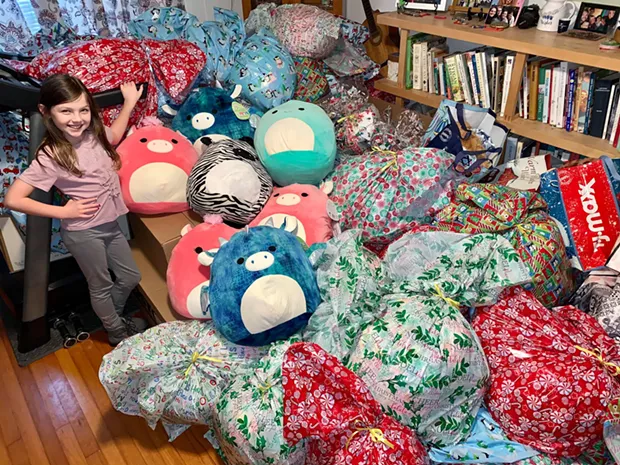 Submitted
Clover Churchill with 100 bundles and some Squishmallows
One night while being tucked into bed with her Squishmallow (a plush toy), 8-year-old Clover Churchill told her mom that if she had more Squishmallows she would give them to all the homeless people in the world.
With that in mind Cheryl Churchill, Clover's mom, decided to make that dream a reality and show her daughter that anything is possible.
Clover Churchill and her mom created the Blankets And Squishmallows for Kids drive for Humboldt County's homeless youth and after a month of collecting donations, Churchill and her mom have collected over 100 donated Squishmallows and blankets for local homeless youth.
The plan is to make sure that every homeless kid in Humboldt County has a Squishmallow in time for Christmas.
"We have a lot of homeless people [in Humboldt County] including kids. I think they might be sad so I wanted to give them these Christmas gifts so they can feel loved and happy," Clover Churchill said in a Facebook video post. "I think the kids are going to be really happy."
Submitted
Clover Churchill with "BASK" bundles ready to deliver.
Cheryl Churchill who works in housing was able to use the 2019 Point in Time Count data to determine that less than 100 homeless youth in Humboldt County were counted. According to the U.S. Dept. of Housing and Urban Development, 88 Humboldt County homeless youth were counted in 2019.
However, the Point In Time count is only administered every two years and only counts the homeless population at a certain time and only for a day, leaving the possibility of children who weren't counted.
The Squishmallows and the blankets will be distributed to Humboldt County organizations that work with homeless families like Arcata House Partnership, Betty Kwan Chinn Center, the Eureka Women's Shelter and others.
The Churchills are still receiving donations until Dec. 15. To donate a Squishmallow or a blanket email Cheryl Churchill at clchurchill@hotmail.com.
"I'm thankful there was such a good response that allowed us to gift all these agencies with bundles for the children of families they serve," Cheryl Churchill said.
Editor's note: Clover Churchill is the daughter of
Journal
graphic designer Dave Brown.