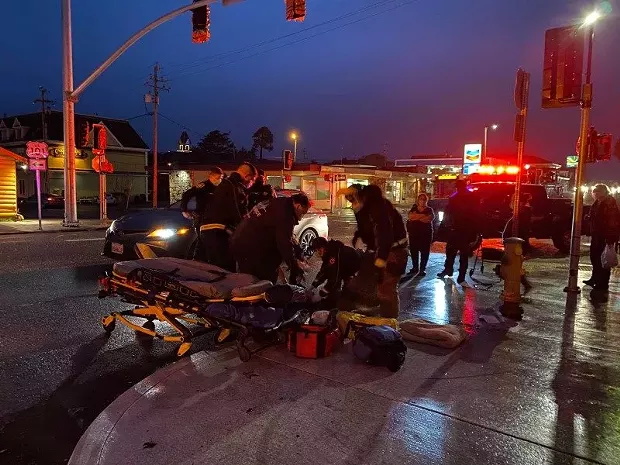 Mark McKenna
Emergency personnel work on the victim.
At about 5:17 p.m., a vehicle struck a pedestrian near the intersection of Fourth and L streets in Eureka.
About 5:20 p.m., an officer told dispatch over the scanner that he was "out with one down in the roadway.
The left two lanes of Fourth Street are blocked.
Please remember that information gathered from initial reports is subject to revision as more facts become available.
Witnesses reported the victim was using a walker.
UPDATE 5:35 p.m.: A Humboldt Bay firefighter said the victim had major injuries with trauma to their lower leg.
The victim was wearing black and was almost to the curb after crossing Fourth to the southwest corner when they were struck by a vehicle. The driver of the vehicle right behind the vehicle that struck the pedestrian stopped, put on their hazards and provided a blanket to the injured person. The driver who allegedly hit the victim pulled over his vehicle and waited for law enforcement.
UPDATE:
Read the EPD release below:
On December 15, 2020, at about 5:15 p.m., officers of the Eureka Police Department (EPD) responded to 4th (Northbound Highway 101) and L Streets for the report of an injury traffic collision involving a pedestrian and a vehicle. Officers located the 65-year-old male pedestrian down on the ground with what appeared to be major injuries. Humboldt Bay Fire and City Ambulance arrived on scene and provided medical care and transportation to the hospital. The 54-year-old male driver of the vehicle remained on scene and was cooperative throughout the investigation. Preliminary investigation indicates that at the time of the collision, the involved vehicle was traveling in the center lane of 4th Street and the pedestrian was crossing 4th street at the L Street intersection. The exact cause of the collision is under investigation. The pedestrian remains in critical but stable condition. The driver of the vehicle was evaluated on scene and displayed no signs of impairment. An EPD officer with advanced traffic accident investigation training and an Evidence Technician processed the scene. This is an ongoing investigation. Anyone with information is asked to contact Officer White at (707) 441-4060.