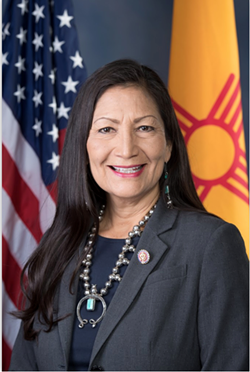 New Mexico Rep. Deb Haaland
The Yurok Tribe and local officials have been applauding president-elect Joe Biden's nomination of Rep. Deb Haaland, who is native to the Pueblo of Laguna Tribe in New Mexico, to serve as Secretary of Interior.
If Haaland is confirmed, she would become the first Native American Cabinet secretary and the first to oversee the interior department. The Secretary of Interior oversees the management and conservation of most federal land, natural resources and the jurisdiction of tribal lands.
Haaland became the first Native American elected to Congress in 2018, along with Rep. Sharice Davids of Kansas.
In a news release, the Yurok Tribe applauded and celebrated Biden's choice to nominate Haaland.
"We are extremely gratified that President-elect Biden has listened to the voices of native peoples and appointed an indigenous leader for this important position. This is a good day," Chairman Joseph L James said.
According to the release, locally, the Secretary of Interior oversees water flows on the Klamath and Trinity Rivers and the management of public lands and natural resources throughout the entire Klamath River basin, issues that are important to the Yurok Tribe.
Yurok Tribe Vice Chairman Frankie Myers tweeted that he was proud to support the nomination and in the release sent by the Yurok Tribe said that the water and fishing rights in the Dept. of Interior have been treated as an afterthought and a nuisance, but with the nomination of Haaland, there's hope that the tribes fishing, water and land rights will be recognized.
"For too long, our water and fishing rights have been treated as an afterthought and a nuisance by the federal government. Our sacred duty as Yurok people, which exists outside any Federal construct or laws, is to bring balance to the river and to our world. When our fishing, water, and land rights are recognized and taken seriously by the federal government, that is when real progress can be made. We look forward to building partnerships and progress in fixing our broken river in the next four years. Let's get to work," Myers said.
North Coast Rep. Jared Huffman also applauded the nomination in a Tweet earlier.
"Going from swamp-puppet David Bernhardt to the great [Rep. Deb Haaland] as Secretary of Interior is the most wonderful political whiplash," the tweet read.
Read the full Yurok Tribe press release below.
Yurok Tribe Applauds the Nomination of Deb Haaland as Secretary of Interior

Indigenous Representation at the Highest Levels of Government is Long Overdue

Requa, CA Today, the Yurok Tribe celebrates the nomination of Representative Deb Haaland from the Pueblo of Laguna in New Mexico as the next Secretary of Interior. Chairman Joseph L James said, "We are extremely gratified that President-elect Biden has listened to the voices of native peoples and appointed an indigenous leader for this important position. This is a good day."

The Secretary of Interior oversees many issues that are important to the Tribe, including water flows on the Klamath and Trinity Rivers as well as the management of public lands and natural resources throughout the entire Klamath River basin. Additional issues that are important to the Yurok Tribe include: the co-management of Redwood National Park, California condor reintroduction and many others. Interior also funds many science and restoration activities that are directly performed by tribal members and employees.

Vice Chairman Frank Myers added: "For too long, our water and fishing rights have been treated as an afterthought and a nuisance by the federal government. Our sacred duty as Yurok people, which exists outside any Federal construct or laws, is to bring balance to the river and to our world. When our fishing, water, and land rights are recognized and taken seriously by the federal government, that is when real progress can be made. We look forward to building partnerships and progress in fixing our broken river in the next four years. Let's get to work."