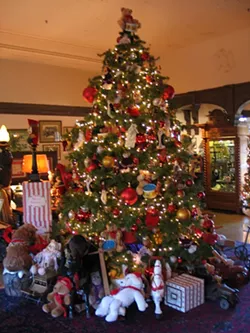 When the time comes, Humboldt County residents have a number of options for recycling their Christmas tree, which will find a new life as mulch or compost. But remember to remove all those ornaments, tinsel and other adornments before sending that sampling on its merry way. And, as always, flocked trees are not eligible.
To find out more about locations, dates and times in the joint release from Humboldt Waste Management Authority, Humboldt Sanitation and Recology below:
EUREKA, CA – With the holidays coming to a close, residents may dispose of their Christmas trees at several community locations at no-charge or may arrange for pick-up by their trash hauler. Residents are encouraged to recycle their Christmas trees so they may be processed into useful mulch or compost. To prepare Christmas trees for recycling, residents must remove all decorations, including ornaments, hooks, garland, tinsel and lights. Flocked trees may not be recycled.

Drop-Off Locations Dates Contact Free Drop-Off & Recycling
Arcata Wes Green Landscaping Dec. 28th – Jan. 16th 822-8035 6360 West End Road, Arcata

Blue Lake Jan. 2nd -Jan. 14th 668-5932 Clemance Field/Perigot Park 312 S. Railroad, Blue Lake Eureka

HWMA's Hawthorne Street Transfer Station Dec. 26th -Jan. 10th, 268-8680, 1059 West Hawthorne Street, Eureka

Ferndale Ferndale's Fireman Park Dec. 31st - Jan 4th, 786-4224, 100 Berding Street, Ferndale Ferndale Fairgrounds 1250 5th Street, Ferndale

McKinleyville Humboldt Sanitation Transfer Station 2585 Central Avenue, McKinleyville Dec. 26-Jan. 24th, 839-3285

Fortuna Recology Eel River's Fortuna Transfer Station Dec. 26th -Jan. 14th, 725-5156, 965 Riverwalk, Fortuna

Fortuna Fairgrounds 1 Park Street, Fortuna

Rio Dell City Hall Dec. 26th – Jan. 4, 764-3532, 675 Wildwood Ave, Rio Dell (back parking lot)

Curbside Collection Dates (Collection fee may apply)
Contact:
Humboldt Sanitation 839-3285
Recology 442-5711 (May collect curbside trees in Arcata, Eureka and some unincorporated areas of Humboldt County.)

Arcata High School Track Team: 822-8325. Arcata residents only. Curbside pick up of tree for $15 with funds benefiting the Arcata High track team.