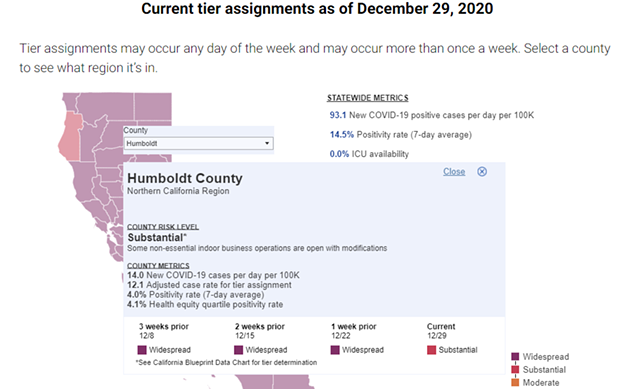 Humboldt County was moved out of the state's "widespread" COVID-19 risk tier today for the first time in four weeks, joining Mariposa and Alpine counties in the "substantial" risk zone, while only Sierra County ranks as "moderate" and the rest of the state remains in the "purple zone."

Under the new tier, some restrictions are loosened, including indoor dining, which is still limited at 25 percent capacity or 100 people, whichever is fewer.
The state of California largely depends on
two metrics to determine
where a county falls in its tier system: the percentage of COVID-19 tests administered that come back positive over a seven-day period and the average number of new positive cases confirmed per 100,000 in population daily over the course of a week. Both have spiked dramatically in recent weeks across the state and the nation.
While the California has a case rate of 93.1 daily cases confirmed per 100,000 residents (up from 80.7) with a test positivity rate of 14.5 percent (up from 13.3) in data released today, Humboldt has a case rate of 14 cases per 100,000 (down from 18.5 last week) and a 4 percent positivity rate, also a decrease.
"Today there is one county, Humboldt County, that has met the threshold, the same threshold that we've always used under the (Blueprint for a Safer Economy) to move from purple to red tier," California's Secretary of Health and Human Services Mark Ghaly said at a press conference today, according to a report in the Times-Standard.