As I reflect back on the year 2020 from before — and after — the coronavirus pandemic, I have to agree with the CNN editor who said, "It may not be a year you want to remember, but 2020 is one you'll never forget."
In the "before" era, my life in January and February included photographing the Martin Luther King Jr. birthday celebration, an anti-war demonstration, the Clam Beach Run, the Inked Hearts tattoo expo, the Marble Weekend event and live arts and culture performances like the Taiko Drum Swing performance and Dell'Arte's First Year shows. (See slideshow below.)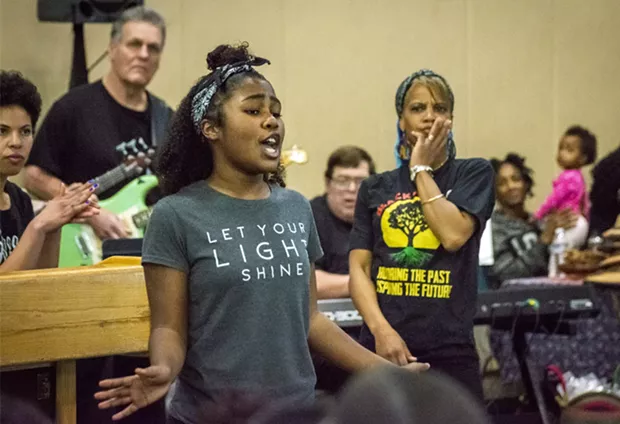 Photo by Mark Larson
January – A soloist in the Healing and Compassion Spiritual Singers and Black Empowerment Dance Troupe helped close the Martin Luther King Birthday event in Eureka, with group director Valetta Molofsky looking on.
In early March, I remember my last face-to-face appointments with my doctor and tax accountant, my last walk around farmers market, stopping to hug friends in greeting, and my last attendance at a Humboldt State University basketball game.
Like most, I will never forget the "after the coronavirus pandemic" era that began for me on March 11. Social and physical distancing. Washing hands. Mask wearing. Avoiding any groups. No travel outside of the county. Due to my at-risk health issues, I also stopped photographing local news events and avoided crowds. But that created a huge void in my life.
I then remembered my own advice to my beginning photo students when "stuck": Start photographing what's around you. I challenged myself to spend the remaining "pandemic" days of 2020 photographing Humboldt County.

39 slides
The good news, I discovered, was that even though I've lived in Humboldt County since 1975, much of Humboldt County remained unseen and many trails unwalked. My wife joined me on daily walks and since March we've completed over 1,000 miles exploring many new and familiar trails around the county.
On our walks, we soon discovered inside ourselves what Shane O'Mara describes as an often overlooked "superpower" in his book, In Praise of Walking: "When we get up and walk, our senses are sharpened. Rhythms that would previously be quiet suddenly come to life, and the way our brain interacts with our body changes."
Photo by Mark Larson
December – Amanita muscaria mushroom in Patrick's Point State Park.
We also downloaded the iNaturalist app to our iPhones and that made learning new plants a fun, rewarding educational experience. We began participating in local "bioblitz" projects on iNaturalist. Our latest iNaturalist "deep dive" this fall has been discovering and photographing the extraordinary diversity of mushrooms in our local forests and other landscapes. On our daily walks from Nov. 14-23, we found and submitted 67 mushroom species to the Humboldt Bay Mycological Society Mycoblitz (fifth place for most species submitted). Nearly 200 participants found 466 different fungi species, with the most observed species including: fly agaric (Amanita muscaria), false chanterelle, sulphur tuft, questionable stropharia, saffron milkcap and redhead russula. We only look and don't pick and eat mushrooms due to our amateur identification skills.
Other memories from this year come to mind, including close encounters with wild otters, a peregrine falcon and a barred owl, and one disappointing discovery of our car window smashed while we were parked outside the entrance to Patrick's Point State Park. Viewing local and national news reports of the Black Lives Matter movement that has changed our society and then the November presidential election. Watching the Comet Neowise pass over us in a dark summer sky above the Kneeland airport. Picking blackberries for multiple baked cobblers. Enduring multiple August and September days trapped inside the house with outside air we could see and could not breathe due to wildfire smoke, while becoming experts on using the PurpleAir app and air quality indexes.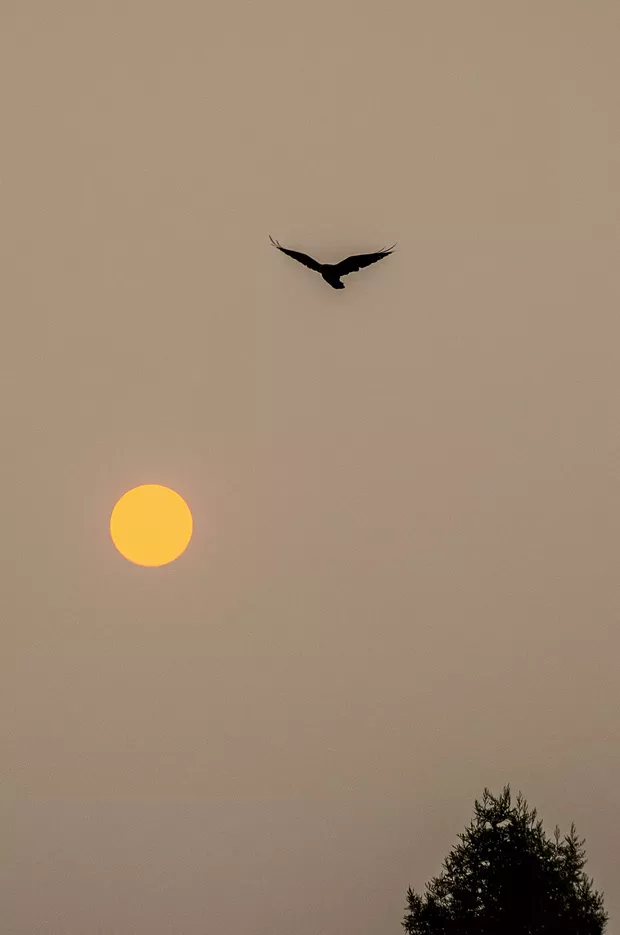 Photo by Mark Larson
September – We awoke to a red sky and sun from smoke from nearby wildfires.
Most memorable of all during this year has been trying to meet the challenge offered by the late Supreme Court Justice Ruth Bader Ginsburg, "To make life a little better for people less fortunate than you, that's what I think a meaningful life is. One lives not just for oneself but for one's community."
May we all learn how to live a more meaningful life in 2021, and stay safe and healthy for all of our communities. Please take this pandemic seriously. As New Jersey's governor Phil Murphy said in response to a question about people growing tired of wearing masks, "You know what's really uncomfortable and annoying? When you die."