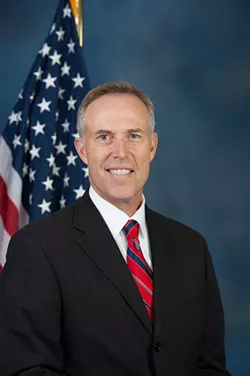 Congress
Jared Huffman.
North Coast Representative Jared Huffman did not hold back when asked about his new colleague, Lauren Boebert (R-Colorado), who on the day she took her oath of office posted a now viral ad vowing to carry her handgun to Congress, telling
The Washington Post
the ad is "catnip to the gun-hugging donor class."
Boepert, who owns Shooters Grill, a restaurant in Rifle, Colorado, where staff members are encouraged to openly carry while working, is an avowed gun rights activist who unseated Scott Tipton last year, becoming the first candidate to successfully primary an incumbent Republican in the state in nearly 50 years, and went on to win a runoff with Democrat Diane Mitsch Bush to become the first woman to represent Colorado's Third Congressional District. Gun rights were unsurprisingly a central theme of her campaign.
The ad, funded by Boebert's campaign, opens with the new representative appearing to load a Glock handgun and strapping it to her hip before she leaves the recording studio and walks through the streets of D.C. to the Capitol grounds to the soundtrack of a rocking guitar riff.
"Even though I now work in one of the most liberal cities in America, I refused to give up my rights, especially my Second Amendment Rights," she says. "I will carry my firearm in D.C. and in Congress. … I walk to my office each morning by myself. So as a 5-foot-tall, 100-ound woman, I choose to protect myself legally, because I am my best security."
The ad seemed to be taking immediate figurative aim at
legislation
introduced by Huffman and his fellow Californian Representative Jackie Speier last year that seeks to undo a 1967 regulation that allows members of Congress to carry firearms in the Capitol and House office buildings and, instead, force them to comply with District of Columbia gun control laws. In a press release, Huffman called the 1967 rule exempting members of Congress "outdated and dangerous." In a Facebook
post
, Huffman later asked people to imagine a Congressional address by a foreign leader or a State of the Union speech with their "favorite unhinged members of Congress sitting there with guns."
Asked by
The Washington Post
about Boebert's ad, Huffman indicated he felt it was disingenuous.
"That kind of grandstanding is clearly what this is about," he said. "It's not about safety."
When crafting rules for the upcoming session, House leadership did not take up the gun issue, allowing members to continue carrying on Capitol grounds.
But Boebert's ad did catch the attention of local authorities, as it appeared to show the new representative arming herself before walking through the streets of D.C., which doesn't allow the open carrying of firearms and does not recognize concealed weapons permits from other states. A spokesperson for Boebert told the
Post
she was not, in fact, carrying the gun throughout the video shoot but D.C. Police Chief Robert Contee told the Post his office would be reaching out to her office to "make sure that she is aware of what the laws of the District of Columbia are."