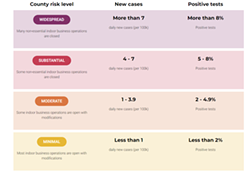 Humboldt County remained in California's red "substantial" COVID-19 risk tier when the stated
updated
its classifications today, allowing restaurants, movie theaters, places of worship and gyms to remain open for limited indoor operations.
But in a report to the Humboldt County Board of Supervisors this morning, Health Officer Ian Hoffman indicated he expects that designation to change when the state updates its tiers next week, noting that the state's data trails behind the real-time numbers local officials are seeing.
"My update today is that the numbers do look solidly purple for this week," Hoffman said, adding that he expects the state to put Humboldt County into the state's purple "widespread" risk tier next week, which would close restaurants to indoor dining and prohibit indoor operations at gyms, movie theaters and churches, among other restrictions.
Humboldt County continues to see a sharp spike in confirmed COVID-19 cases, with more than half its cumulative case count of 1,910 having been confirmed since Dec. 1.
The state largely uses
two metrics
— the average number of new COVID-19 cases confirmed daily per 100,000 in population and the average test-positivity rate over a seven-day period — to determine a county's tier status. According to the state's update today, Humboldt County recorded an average of 15.1 new COVID-19 cases per 100,000 residents per day with a test-positivity rate of 5.2 percent.
Humboldt County's test positivity rate alone would qualify it for its current red "substantial" tier, but the case tallies are more than double the state's criteria for the purple "widespread" tier. When a county straddles two tiers, the state metrics say it should fall into the more restrictive category. It remains unclear why exactly the state surprised local officials by moving the county into the red tier Dec. 29, though they have said it has to do with the state's health equity metric, which is aimed at ensuring counties are working equitably to protect all populations.
Meanwhile, the state's Northern California Region — which comprises Humboldt and 10 other counties — is
reporting
an available intensive care unit bed capacity of 29.8 percent. If that dips below 15 percent, all counties in the region would be subject to a state stay-at-home order, which currently remains in place for the state's four other regions, which are home to 98.3 percent of California's population.