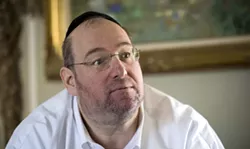 PHOTO COURTESY OF THE SACARAMENTO BEE / PAUL KITAGAKI JR.
Shlomo Rechnitz
In case you missed it,
The Washington Post
recently published a scorching investigative report on Brius Healthcare, which, with 80 nursing homes in California, including four in Humboldt County, is the state's largest for-profit nursing home operator.
The
story
details how Brius received more than $800 million in Medicare and Medicaid funding in 2018 to care for residents at its 80 homes and spent more than 70 percent of it paying "so-called related parties — companies they or their family members partially or wholly own" in a scheme to increase profits. The
Post
's analysis found that Brius homes pay about "40 percent more per bed on average to related parties than other for-profit nursing homes in California." While the
Post
notes it is "impossible to determine profits or losses" from any of these privately held related companies from the public record, tax returns "offer a glimpse."
The
Post
's investigation found that in 2013 alone, Shlomo Rechnitz, Brius' owner, and his wife reported income of at least $31 million from four of these related companies that regularly provide services to Brius' nursing homes. In 2018 alone, the
Post
reports, Brius paid more than $100 million to dozens of related companies "for everything from medical supplies to rent."
The article points to a local example:
"In the Eureka area in Northern California, a company managed by Rechnitz in 2011 leased five nursing homes, agreeing to pay the property owner a total of $3 million in rent per year, state records show. Rechnitz's company then subleased the buildings to the nursing homes for $3.5 million — hundreds of thousands of dollars more than his company was paying the property owner, records show."
Some of the
Post
's exhaustive bombshell report should come as no surprise to regular
Journal
readers, as it echoes the findings of years of award-winning local reporting on Brius' Humboldt County properties. (Huge hat tip to former
Journal
staff writer Linda Stansberry, whose pieces "
The Shut Out
," which detailed Brius' efforts to refuse to accept new patients as a leverage point in reimbursement negotiations, and "
The Case of the Missing $5 Million
," which exposed Rechnitz's profiting from related-party transactions while complaining his local companies were operating at a deficit, which won back to back Best Investigative Reporting awards from the California Newspaper Publisher's Association in 2016 and 2017. (Stansberry's subsequent "
Bluffing
" explored Rechnitz's "high-stakes gamble with patient lives" and California's inability to provide effective oversight.)
Brius Healthcare owns Granada Rehabilitation and Wellness, Seaview Rehabilitation and Wellness, Eureka Rehabilitation and Wellness and Fortuna Rehabilitation and Wellness, holding a virtual monopoly on skilled nursing facilities in Humboldt County.
The
Post
's story also features comments from Michael Wasserman, a geriatrician who served as CEO of a company that provides administrative services for Brius' homes and defended the quality of the company's local patient care in a 2018
interview with Stansberry
early in his 18-month tenure with the company.
Wasserman told the
Post
he ultimately quit because he had "little control over the quality of patient care." In March, as COVID-19 began to spread through the U.S., according to the Post, "Wasserman reached out to the California Department of Public Health with a stark warning: 'I ran a billion-dollar nursing home chain that presently is scaring the daylights out of me.'" The article states that Wasserman then offered a list of Brius homes he was particularly worried about.
It's unclear if any local facilities were on Wasserman's list of concerns, but Granada Rehabilitation and Wellness in Eureka has seen a
large and deadly COVID-19 outbreak
that at last official tally had infected 99 residents and staff members, and claiming the lives of a dozen residents. Local health officials have said Granada's staff did all it could to prevent the virus — which has decimated nursing homes and long-term care facilities throughout the country — from entering the facility and, when it did, to contain the outbreak.