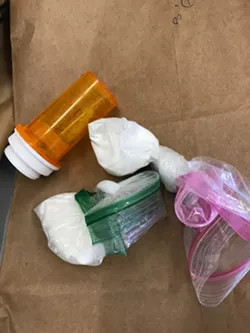 Humboldt County Drug Task Force seized approximately 1.31 pounds of methamphetamine, 1.5 ounces of cocaine and $7,900 after serving a search warrant on two Eureka residents yesterday.
According to the release, HCDTF agents had been investigating Miguel Jose SierraHerrera, 25, and his girlfriend Micheal Clair Guyette, 25, before making a traffic stop that led to the finding of the substance.
HCDTF also served a warrant at Herrera's and Guyette's Eureka residence where they found 1.5 ounces of cocaine and $7,900 in cash.
Herrera and Guyette were arrested on suspicion of possession of methamphetamine for sale, transportation of methamphetamine for sale, possession of cocaine for sale and conspiracy to commit a crime.
Anyone with information related to this investigation is asked to call the HCDTF at 267-9976.
Read the full press release below.
On January 6th, 2021, special agents with the Humboldt County Drug Task Force (HCDTF), with the assistance of the Eureka Police Department POP team, served a search warrant on Miguel Jose Sierra Herrera (25 years old Eureka) and his girlfriend Micheal Clair Guyette (25 years old Eureka). Agents have been investigating the couple for trafficking methamphetamine in Humboldt County.

Agents made a traffic stop on the couple in the area of Buhne Dr. and Union St. in Eureka. Guyette attempted to walk away from the vehicle and was detained by agents. Guyette was found to have approx. 1.25 pounds of methamphetamine concealed in the front of her pants. Agents also located 1 ounce of methamphetamine inside the vehicle.

Agents responded to the 1500 block of John Hill Rd. in Eureka and served a search warrant on Herrera and Guyette's residence. Inside the house agents located approx. 1.5 ounces of cocaine and approx. $7900 in US currency.

Herrera and Guyette were both booked at the Humboldt County Jail for the following charges:

H&S 11378 Possession of methamphetamine for sale
H&S 11379 Transportation of methamphetamine for sale
H&S 11351 Possession of cocaine for sale
PC 182 Conspiracy to commit a crime

Anyone with information related to this investigation or other narcotics related crimes are encouraged to call the Humboldt County Drug Task Force at 707-267-9976.

<!——EndFragment——>