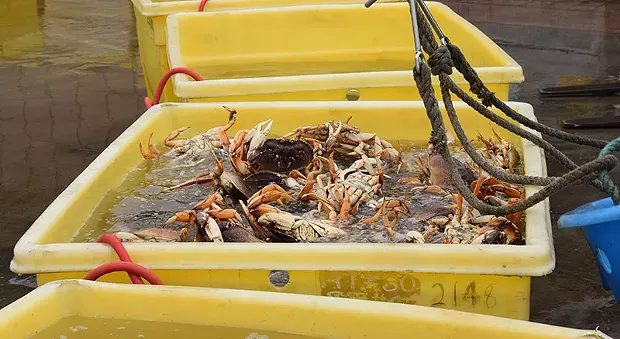 Jennifer Fumiko Cahill
Crab should be coming soon.
It's beginning to look a lot like local Dungeness crab will soon be heading to tables across Humboldt County now that price negotiations have been settled, according to multiple media reports.
But all things being Humboldt, dangerous conditions, including a
gale warning
, an atmospheric river ladened with rain and heavy seas are delaying the deployment of pots until later in the week.
"We have come up with a gentleman's agreement to set gear on Thursday at 8 a.m.," said Harrison Ibach, president of the Humboldt Fishermen's Marketing Association, told the
Times-Standard
.
A gale warning from the Eureka office of the National Weather Service, in effect now until 3 a.m. Wednesday from Point St. George to Cape Mendocino, states "strong winds will cause hazardous seas which could capsize or damage vessels and reduce visibility."
A westerly swell is expected to peak Tuesday at 17 to 18 feet but another one is expected to move through local waters Friday into Saturday, bringing 15 to 16 foot seas. Heavy rain is also expected to hit northern Humboldt, Del Norte County and the King Range, periods of which are "most likely during the day on Tuesday," NWS states.
And, amid all of this,
King Tides
are expected to cause some minor coastal flooding Tuesday and a high surf advisory will be in effect from 7 a.m. Tuesday to 8 a.m. Wednesday, with breaking waves in the 22- to 25-foot range.