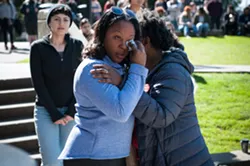 Mark McKenna
Charmaine Lawson dabs her eyes before addressing the crowd at a vigil held for her son at Humboldt State University in 2019.
The trial date for Charmaine Lawson's civil lawsuit alleging the city of Arcata violated her constitutional rights by inadequately and incompetently investigating the 2017 stabbing death of her son has been pushed back to late this year.
The case — in which Lawson alleges racism and discrimination contributed to the city's "deliberately indifferent" policies, practices, customs, training and supervision related to the investigation into Humboldt State University sophomore David Josiah Lawson's April 15, 2017, stabbing death at an off-campus party — had been scheduled to go to trial this summer. Both sides have agreed to a continuance after the home of lawson's lead attorney — Kyndra Miller — burnt down in September during a fire in Sonoma County.
"Ms. Miller's primary case files and notes for this matter were destroyed," reads the
order
granting the continuance. "In order to permit plaintiff's counsel sufficient time to recreate the necessary case files and to recover from personal hardship caused to her by the catastrophic Glass Fire, counsel for the parties have met and conferred, and have agreed to modify the pre-trial case schedule and date for commencement of trial."
The city of Arcata has denied wrongdoing in the case and Lawson's homicide remains unsolved. The trial is now slated to begin Nov. 29.
Meanwhile, a civil case brought against the city by Kyle Zoellner, the man who was arrested at the scene of Lawson's stabbing and charged with his murder only to see the case dismissed after a judge found insufficient evidence to hold him to stand trial, is
scheduled
for a pivotal hearing next month. Zoellner has alleged the city violated his constitutional rights, arrested him without probable cause and falsified police reports. The city has denied the allegations and the court is slated to hear a motion to dismiss the complaint Feb. 25.