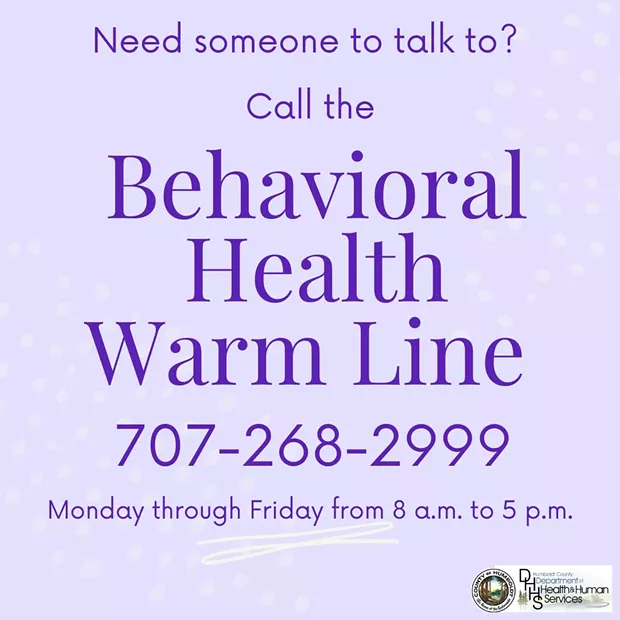 It would be an understatement to say this pandemic has changed our lives, that the Black Lives Matter movement was merely amplified after George Floyd's death in Minneapolis, that California witnessed one of the worst wildfire seasons, that this past election was one of the most contested and that the dire consequences from the spread of conspiracy theories at the Capitol on Jan. 6 were shocking.
These past 10 months have been extremely stressful, to say the least, and for those who have been feeling it and need someone to talk to, the Humboldt County Department of Health and Human Services Behavioral Health Warm Line is there to help.
"Since we launched the warm line, calls have been primarily pertaining to COVID testing and strategies for limiting spread and concerns there is no end in sight. We're also receiving a lot of calls about anxiety and depression rooted in isolation and loneliness and concerns about loss of income and economic pressure," DHHS Behavioral Health Deputy Branch Director Jack Breazeal said in an email to the
Journal
.
The warm line isn't just for COVID-19 related worries, Breazeal emphasized, noting residents can call for support related to any issues that may be causing them anxiety, depression or distress, including natural disasters, social or community violence, racial injustice or any concerns that people want to talk about.
"We did see a change in the nature of calls over the summer and early fall due to the ongoing social justice concerns within our country, as well as the local wildfires. These matters seemed to escalate the anxiety level of our community in a very pronounced way during that time but have since subsided," Breazeal said.
Staffed by three employees, DHHS's Behavioral Health Warm Line is available to Monday through Friday, excluding holidays, from 8 a.m. to 5 p.m. and can be reached at 268-2999.
So far, DHHS has been using COVID-19 emergency funding and existing Behavioral Health monies to cover the operational expenses of the warm line. According to Breazeal, DHHS is working to find additional resources to "sustain the warm line long-term."
People who receive a voicemail during business hours can expect a prompt call back, and people who leave a voicemail afterhours can expect a call back the next business day.