SECOND UPDATE:
Snow has shutdown U.S. Highway 101 from Cummings to just north of Laytonville in Mendocino County, Caltrans reports. As of 5:45 p.m. the roadway remained closed.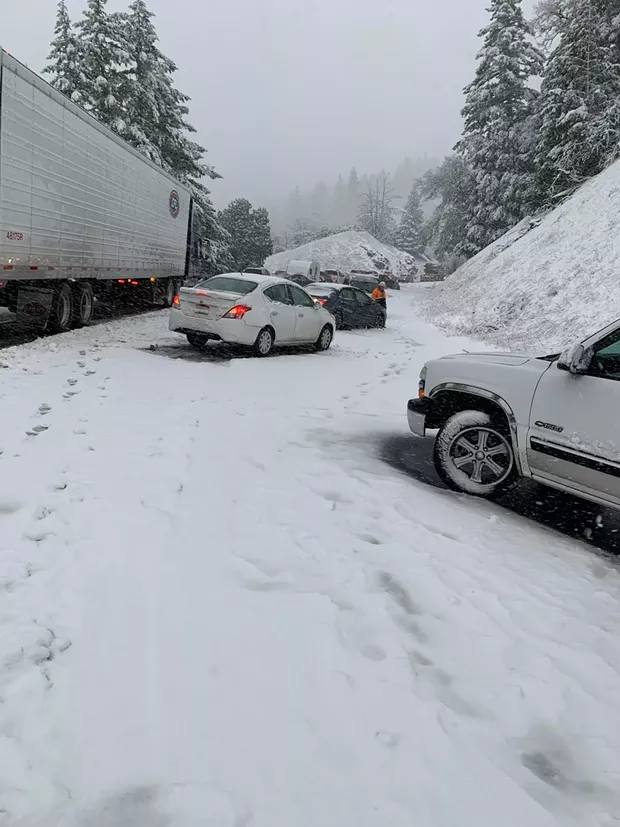 Caltrans
Conditions on U.S. Highway 101 in Mendocino around Laytonville just before 6 p.m.
UPDATE:
Thousands lost power across Humboldt, including a huge swath of residents in Freshwater, Kneeland, Fortuna, Ferndale, Loleta and Rohnerville, as whipping winds hit the region.
According to PG&E, the vast majority are believed to be weather-related and as of around 2 p.m., there was not estimated time of restoration for most outages.
PREVIOUS:
A blustery winter storm is still on track to hit the region this afternoon, bringing significant snowfall, strong winds and heavy rain, and continuing through Wednesday.
Snow could fall as low as 500 feet, according to information from the
Caltrans
Berry Summit looking south.
Eureka office of the National Weather Service this morning, but are expected to quickly rise above 1,500 feet. The heaviest snow is anticipated tonight with a second round Wednesday morning.

In Trinity County, cold temperatures may keep snow near the valley floors.

A wind advisory for southeast winds of 20 to 30 mph with gusts up to 55 mph is in effect until 7 p.m.

How much the storm will bring is still unclear, according to NWS, but it's forecast to be in the 1- to 2-foot range. The weather service also noted that U.S. Highway 101 near Laytonville could be initially affected by up to 2 inches of snow before levels rise in the evening. High points on state routes 199 and 299 as well as other sections of U.S. Highway 101 will also likely see snow.

"Travel could be very difficult to impossible," the NWS winter storm warning, in effect from 2 p.m. today to noon Wednesday, states. "The hazardous conditions could impact the morning or evening commute. Gusty winds could bring down tree branches."