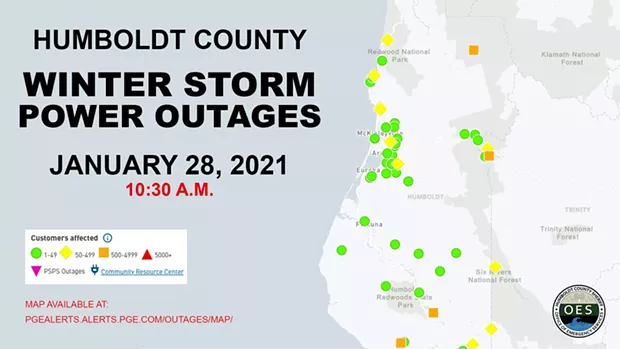 More than 6,500 Humboldt County residents were still without power this morning in the wake of a strong winter storm with blustery winds that blew through the area over the last two days, knocking down trees and closings road throughout the region.

According to PG&E, Humboldt is among the areas of the state hit hardest by outages. "Since the storm started at midnight Tuesday through 4 p.m. (Wednesday), about 575,000 PG&E customers have lost power due to the winds, rain and snow. Of those, 434,000 (or 75 percent) have been restored with approximately 141,000 customers still out of power," a news release from the company states.

The Humboldt County Office of Emergency Services reports that PG&E has relayed that many of the most damaged areas are difficult to reach due to snow or other rugged conditions and the weather has hindered helicopter patrols, which means repair could take several days in some cases.
Huge swaths of Southern Humboldt, Willow Creek and Hoopa are in the outage zones.
According to snow reports received Wednesday by the Eureka office of the National Weather Service, Willow Creek received 16 inches, parts of Ruth saw 28 inches and southern Willits recorded 10 inches.
11 slides