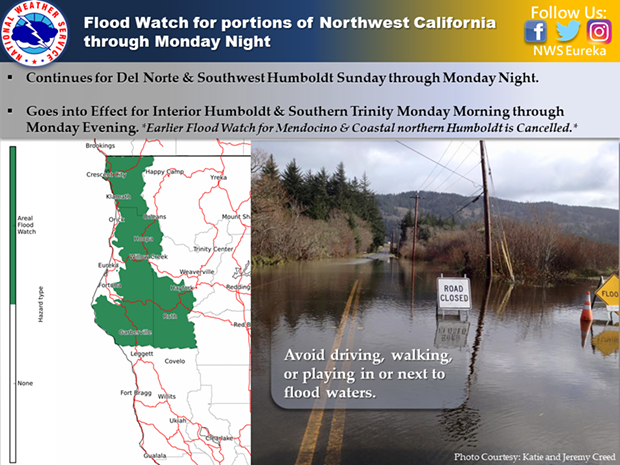 UPDATE:
Slide activity has prompted the closure of State Route 96 about 8 miles west of Happy Camp and no detour is available. There is not current timeline for when the roadway will reopen. Read more
here
.
PREVIOUS:
Moderate to heavy rainfall is expected across the region today, with 3 to 4 inches of rain is forecast through tonight for Del Norte County and southwest Humboldt, while other areas could see 5 to 7 inches.
A flood watch is in effect from 10 a.m. to late tonight for coastal and interior Del Norte County, interior areas of Northern and Southern Humboldt, southern Trinity County and southwestern Humboldt County, according to the National Weather Service office in Eureka.
"Heavy rain combined with saturated soil (and melting snow across the mountains) will contribute toward possible flooding," according to the NWS. "Low lying areas, creeks, streams, culverts, and portions of urban areas may experience flooding due to heavy rainfall."
Elevations above 1,500 are expected to see gusty winds.