Caltrans
The slide on State Route 96.
UPDATE:
Caltrans is cautioning that U.S. Highway 101 at Last Chance Grade may not open until the weekend due to inclement weather and continued slide activity, cutting off a main route connecting the northern most reaches of the state to points south just below Crescent City.
PREVIOUS:
State Route 96 remains closed about 4 miles west of Happy Camp due to a slide that hit early Thursday while U.S. Highway 101 at Last Chance Grade in Del Norte County was shut down yet again today due to more slide activity.
Caltrans reports more than 30,000 cubic yards of debris will need to be cleared on SR 96 and the slide area remains active.
"There is no current estimated time for reopening the highway," a Facebook post states.
Last Chance Grade, meanwhile, has been hit by a series of slides this week.
"Crews are working tirelessly around the clock to reopen U.S. 101 at Last Chance Grade as soon as it is safe to do so," Caltrans reported.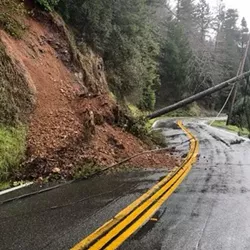 Caltrans
Powerlines down on SR169.

More slide activity has State Route 169 closed a U.S. 101 (Del Norte County) and power lines are also down.
Find the latest road information at
quickmap.dot.ca.gov
.