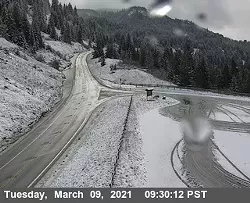 Berry Summit this morning.
Caltrans
A winter weather advisory issued by the National Weather Service office in Eureka now includes elevations above 1,500 feet across much of the region and snow will be possible tonight on parts of U.S. Highway 101 near Laytonville.
The advisory remains in effect until 10 a.m. Wednesday. Snowfall rates of up to 1 inch per hour are possible.
"Hazardous travel conditions are expected across many mountain roads and highway passes," a NWS post states.
Motorists are advised to carry chains if traveling in mountainous areas, including on state routes 299, 3 and 36.
Showery conditions with the possibility of thunderstorms are expected in other areas.