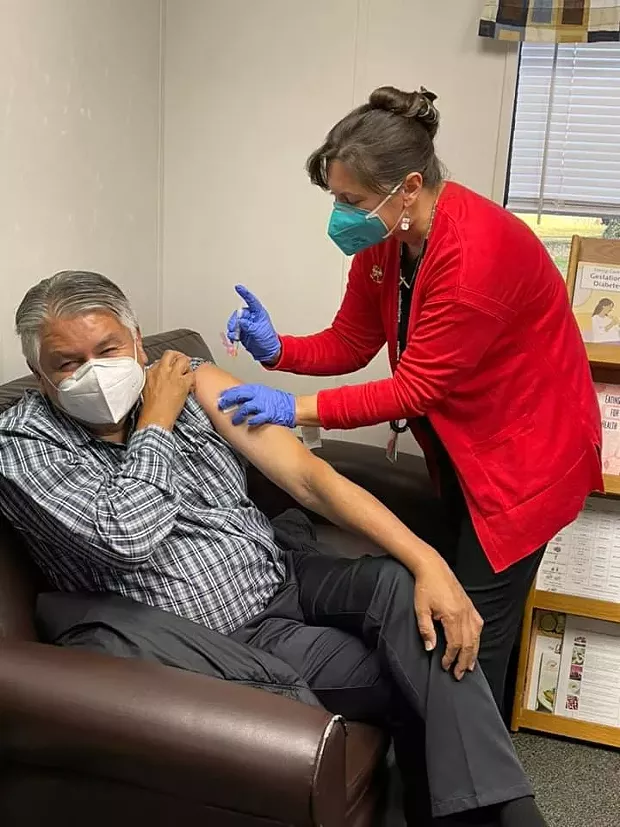 Hoopa Valley Tribe
K'ima:w Medical Center CEO Dr. Emmett Chase was the first to receive the Moderna vaccine in Hoopa on Dec. 23, 2020.
The Hoopa Valley Tribe, with assistance from the Yurok and Karuk Tribes, are leading an inter-tribal effort to vaccinate all Klamath-Trinity community members 18 years old and older, including non-tribal members, on March 27.
<!—StartFragment—>The Hoopa Valley Tribe's K'ima:w Medical Center has enough vaccine supply for all residents in the inland ancestral lands of Hoopa, Yurok and Karuk Tribes, including the Klamath Trinity region spanning from Happy Camp to Willow Creek, the Salmon River community, all residents from Weitchpec to Johnsons and all residents from Lord Ellis to Burnt Ranch.<!—EndFragment—>
The mass vaccination drive-thru clinic will take place at the Hoopa Wildland Fire Dept. facility, Highway 96, on March 27 from 9 a.m. to 5 p.m.
<!—StartFragment—>"We are excited about the opportunity to collaborate with our neighboring tribes to build a layer of protection around our river communities, which in turn, protects our tribal members," Hoopa Director of Emergency Services Greg Moon, said. "We have 1,100 doses of Moderna vaccine to provide, which can significantly slow the spread and reduce the threat of COVID-19 in our communities. We are prepared to serve all K-T residents who want the vaccine, significantly shortening their wait time, and relieving the counties' struggle to reach the rural reaches of their service areas."
<!—StartFragment—>"The three tribes recognize that slowing the pandemic in their ancestral territory means vaccinating all residents, regardless of tribal affiliation, who interact in the river communities regularly," the release states.
The Yurok and Karuk tribes will be assisting the K'ima:w Medical Center with clinical and logistical support as well as combining nursing and ground support for the mass vaccination site at the Hoopa Wildland Fire Dept. Facility.
"I would like to thank the Hoopa Tribe and Karuk Tribe for the opportunity to contribute to this monumental event. Since the beginning of the crisis, the Tribes have worked together on addressing the many different components of the crisis," said Assistant Emergency Manager Amos Pole, who also serves as the Deputy Incident Commander on the Yurok Tribe's COVID-19 Incident Management Team. "With the ongoing vaccinations that are happening in each of our respective territories, we are quickly creating a safety bubble around the Klamath-Trinity community. Mass vaccination is one of the most effective tools we have to prevent the spread of the illness and save lives."
Since the vaccine became available in December, the Hoopa Tribe has vaccinated more than 40 percent of Hoopa residents aged 18 and over with their first dose of the Moderna vaccine all while second dose counts are approaching 30 percent as more people are returning for their second dose.
<!—EndFragment—>For any questions, please call the Hoopa Office of Emergency Services at 630-7371
Read the full press release below.
RIVER TRIBES JOIN FORCES TO SLOW PANDEMIC IN KLAMATH-TRINITY COMMUNITIES
Mass Vaccine Drive-Thru Event in Hoopa Open to all K-T Residents March 27

The Hoopa Valley Tribe is leading an inter-tribal effort to offer the Moderna vaccine to all adult Klamath-Trinity residents. The Yurok Tribe and Karuk Tribe will provide assistance with resources, clinical and logistical support. The three tribes recognize that slowing the pandemic in their ancestral territory means vaccinating all residents, regardless of tribal affiliation, who interact in the river communities regularly. The Hoopa Valley Tribe's K'ima:w Medical Center currently has enough vaccine supply to distribute widely throughout the inland areas.

"We are excited about the opportunity to collaborate with our neighboring tribes to build a layer of protection around our river communities, which in turn, protects our tribal members," Hoopa Director of Emergency Services Greg Moon, said. "We have 1,100 doses of Moderna vaccine to provide, which can significantly slow the spread and reduce the threat of COVID-19 in our communities. We are prepared to serve all K-T residents who want the vaccine, significantly shortening their wait time, and relieving the counties' struggle to reach the rural reaches of their service areas."

This mass vaccine event is open to all community members 18 and older who reside within the inland ancestral lands of the Hoopa, Yurok and Karuk Tribes; the Klamath-Trinity region spanning from Happy Camp to Willow Creek on Highway 96; the Salmon River Community; all residents from Weitchpec to Johnsons on Highway 169; and all residents from Lord Ellis to Burnt Ranch on Highway 299; Tribal affiliation is not required.

"It is our recommendation that everyone eligible gets vaccinated to protect our neighbors, friends, and family. Mass vaccination events like this one are an important step for our communities in the process of moving beyond this crisis." Said Danci Harris, Lead LVN II for the Karuk Tribe. "We are thankful and excited for the opportunity to partner with the Hoopa Tribe and Yurok Tribe on such an important initiative, and hope collaborative efforts can continue in the future."

Combining nursing and ground support staff from the three area tribes, and utilizing the Hoopa Wildland Fire Department facility, will help make this event a success along with K'ima:w Medical Center's demonstrated success with vaccine administration. On March 11 the Hoopa Tribe's K'ima:w Medical Center vaccinated 180 community members during a small-scale vaccine event. And, since the vaccine became available to the Tribe in December, they have vaccinated more than 40 percent of Hoopa residents aged 18 and over with their first dose of Moderna. Second dose counts are approaching 30 percent as more return for their booster.

"I would like to thank the Hoopa Tribe and Karuk Tribe for the opportunity to contribute to this monumental event. Since the beginning of the crisis, the Tribes have worked together on addressing the many different components of the crisis," said Assistant Emergency Manager Amos Pole, who also serves as the Deputy Incident Commander on the Yurok Tribe's COVID-19 Incident Management Team. "With the ongoing vaccinations that are happening in each of our respective territories, we are quickly creating a safety bubble around the Klamath-Trinity community. Mass vaccination is one of the most effective tools we have to prevent the spread of the illness and save lives."

Recent CDC studies have shown that American Indian/Alaska Natives are among the racial and ethnic minority groups at highest risk for severe COVID-19 outcomes. Persisting racial inequity and historical trauma have contributed to disparities in health and socioeconomic factors between American Indian and white populations that have adversely affected tribal communities. High case counts within this population might also reflect differences in reliance on shared transportation, limited access to running water, household size, and other factors that might facilitate community transmission.

"The goal is to protect our small rural communities from further spread. We really couldn't do a vaccine event of this magnitude and all-inclusivity without help from our neighboring tribes," Betty Kramp, KMC Director of Nursing said. "We're so excited to get more vaccines into arms!"


WHAT: Mass Vaccine Drive-Thru Clinic

WHEN: Saturday, March 27 from 9 a.m.-5 p.m.

WHERE: Hoopa Wildland Fire Department, Highway 96 (across from HHS football field)

QUESTIONS: Hoopa OES Hotline (707) 630-7371