The sun belied the chill on Sunday afternoon in the lot of the Humboldt Unitarian Universalist Fellowship in Bayside, some 200 people came for a walking meditation and vigil for victims of the March 16 shooting in Atlanta that targeted Asian women and took the lives of eight people.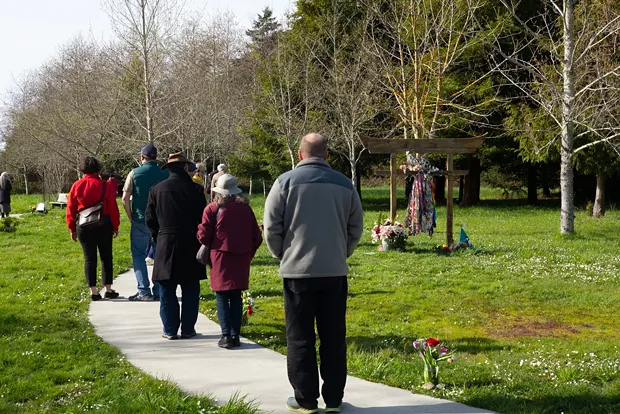 In front of the closed hall, members of Humboldt Asians & Pacific Islanders (HAPI) in Solidarity who'd helped organize the event set out bottle of sanitizer, nametag stickers and origami cranes for visitors to pin to their coats. Patty Hecht rubbed her arms in the wind and explained the group had chosen the church grounds rather than the more visible Arcata Plaza in order to avoid potential conflict or harassment.
Days before, the press release announced, "The tone of the vigil is compassionate, peaceful, and respectful, to demonstrate support for Asians and Pacific Islanders against whom acts of violence have been increasing over the past year." The mood was indeed more one of solace than protest. (See the slideshow below by photographer Dave Woody.)
Adrianne Tait Wohlfeil, a Black woman, stood quietly, holding a paper sign over her chest that read, "Because Trump Called It 'The Chinese Virus' Many Asians Were Harmed & Victims Of Hate Crimes," and called for solidarity. She said she'd brought the same sign to Fortuna for the pro-Trump truck parade in October of 2020. "I keep thinking of my maid of honor ... to think she could have been one of those victims, it has me in hysterics. And all those people who died — they matter."
Along the path winding through the grounds, there were Mason jars of flowers and overturned folding chairs to which brief biographies of those killed were taped.
Members of HAPI had combed articles from the New York Times, Washington Post and NPR to compile information about each of them: Daoyou Feng, who'd just started work at the spa; Hyun Jung Grant, a former elementary school teacher who loved Korean dramas; Suncha Kim, a grandmother who'd received a President's Volunteer Service Award; Paul Andre Michels, an electrical technician from Detroit; Soon Chung Park, who was 74 and a former dancer; Xiaojie Tan, the owner of the spa, described as "the sweetest, kindest, most giving person"; Delaina Ashley Yaun, who sometimes bought food for people on the streets; and Yong Ae Yue, a 63-year-old single mother who'd raised two sons.
HAPI member Vicki Ozaki explained, "We wanted people to connect with them as real people with lives and families." Notably absent was any mention of their alleged killer.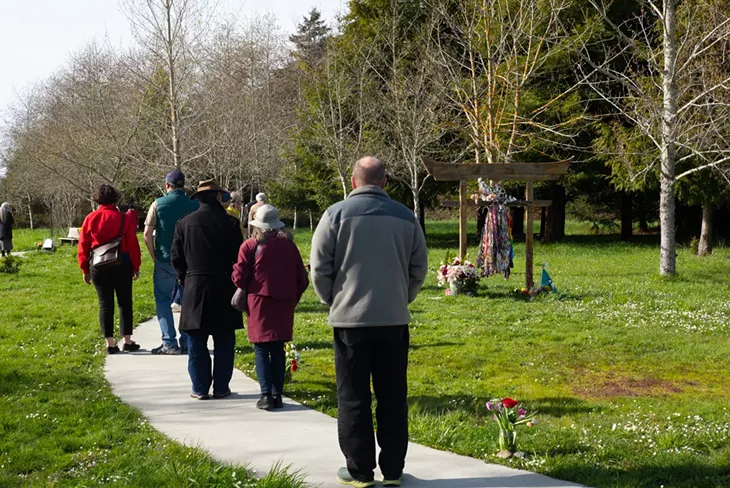 12 slides
To the right of the path stands an un-varnished wooden Japanese-style torii gate, where garlands of 1,000 bright origami cranes were hung, swaying a little in the wind. Below, incense sticks, bouquets, a painted stone and a small, carved figure of Quan Yin, goddess of mercy and compassion.

Elavie Ndura, Humboldt State University's associate vice president and campus diversity officer, stood nearby, talking with those making their way along the path. "I was planning to come just for me," but she said the university also wanted to send a representative. "Hate and violence hurt us and when one community is hurt, it hurts us all," Ndura said, adding that she sees misogyny, racism and xenophobia as elements to be fought "together in solidarity."
As the temperature dropped a bit, Gary Ronne of Humboldt Taiko set up a trio of traditional Japanese drums on the grass and began to play, his feet bare and a black hanten jacket with a golden dragon winding around the clouds on its back and sleeves. The steady rhythm grew from faint tapping to chest-thumping, building and subsiding as the scattered attendees in the lot and on the path stopped to watch.
Alex Ozaki, who's also a member of equity arcata, stood next to a table with jars of cash being collected for Asian Americans Advancing Justice, a network of civil rights organizations for Asian and Pacific Islander Americans. Ozaki said she still feels relatively safe in Humboldt and within her tight "COVID circle." Almost a year ago she was yelled at in a AAA office by a white stranger who said, "he could still see my 'squinty eyes' over my mask," and asked the staff "why they let Chinese people in the building."
Heartbreaking as the shootings in Atlanta were, Ozaki was also frustrated to see how the racism and misogyny of the murders has been downplayed in media coverage, by authorities and by people in her community. "But then seeing a group like this gather — despite it being tragic, it feels good to see this solidarity."
<!———EndFragment———>