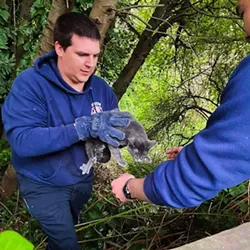 Fortuna Fire Facebook page
Do firefighters really rescue cats from trees? In Fortuna, yes, they do.

A team from the Fortuna Volunteer Fire Department came to the rescue of a wayward kitten that became stuck this morning.

According to a Facebook post, Capt. Kyle Kertscher along with firefighters Riley Cameron, Myles Borgelin, and Alan Agnone worked together to retrieve the little gray cat from high up in the branches and bring the feline back into the arms of its owner.