Humboldt County is in the midst of a surge of fentanyl-related overdose deaths, alarming local officials who have
long braced
for the powerful opioid's impact on the North Coast.
Fentanyl has accounted for nearly 50 percent of Humboldt County's alcohol and other drug (AOD) deaths so far this year, with five overdose deaths logged in March alone, according to data provided by the Coroner's Office. And through the first three months of the year, 2021 had already matched the number of fentanyl overdose deaths recorded in Humboldt County in all of 2019 and was on pace to more than triple last year's tally.
"The 2021 overdose rate of fentanyl here in the county is staggering," said Humboldt County Sheriff William Honsal in an email to the
Journal
. "Our County Drug Task Force has responded swiftly to this sudden onslaught of dangerous fentanyl into our community."
After being found in one overdose victim locally in each of 2016, 2017 and 2018, fentanyl was found in seven of Humboldt County's 71 (9.7 percent) AOD deaths in 2019, and nine of the 63 (14.7 percent) recorded in 2020, according to data provided by the Coroner's Office.
Sheriff's Lt. Shawn Sopoaga, who currently commands the task force, said fentanyl has quickly become a primary focal point for the task force, a team of investigators from multiple agencies that make high-end drug cases. The task force has made a series of large busts this year, starting back in January, when it seized a local record
4 ounces of fentanyl
in a traffic stop of a Eureka man returning from San Francisco. Then in March, agents arrested several people connected to the alleged trafficking of
5,000 fentanyl-laced counterfeit prescription pills
into Humboldt County from the San Jose. Earlier this month, the task force reported
arresting a Piercy man
after finding him with 1.5 ounces of fentanyl.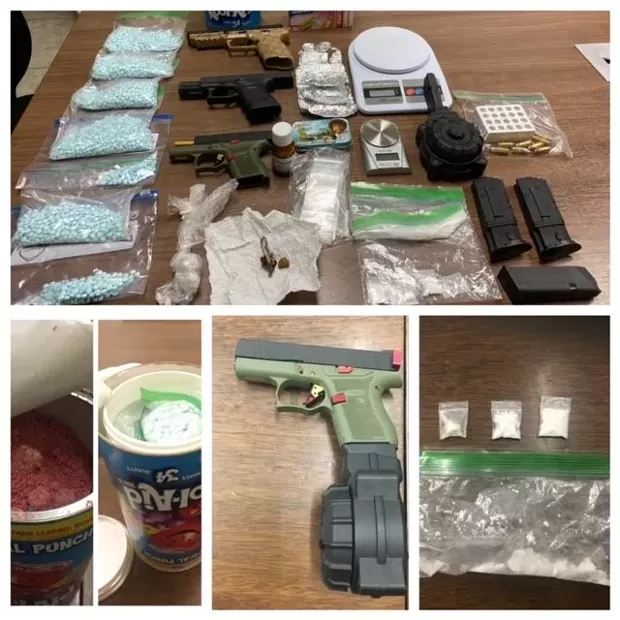 Humboldt County Drug Task Force
Fentanyl, cocaine and firearms seized as a part of a weeks long investigation stemming from a string of fentanyl overdoses.
"We are definitely reacting to what is quickly becoming one of the most influential narcotics in Humboldt County, Sopoaga told the
Journal
, adding that while urban areas and other parts of the country have been dealing with fentanyl for years, it's fairly new to the North Coast.
While Fentanyl is tremendously addictive, it's considered to be
especially dangerous
because of its potency. According to the U.S. Drug Enforcement Agency, a lethal dose of heroin is generally considered to be roughly 30 milligrams, while a 3-milligram dose of fentanyl — which looks like a few grains of salt — is enough to kill an average adult male. That potency makes it attractive for drug traffickers, officials say, as a tiny bit can be used to stretch illicit street drugs or counterfeit pharmaceuticals. But if the drug isn't blended sparingly, thoroughly and evenly, it can prove deadly.
The task force is seeing far more fentanyl circulating locally in counterfeit pills, Sopoaga said, which is a huge concern.
"It's not like these counterfeit pills are being processed with quality control in a laboratory," he said. "They're very inconsistent. I think we have been seeing some overdoses as a result."
Because fentanyl is so much more potent and consequently cheaper than other drugs, there have also been reports of non opioid counterfeit pills — like benzodiazepines, barbiturates and amphetamines — being cut with fentanyl, which can prove deadly for users who don't have a built up opioid tolerance and are expecting to ingest something else. In some cases, it's also unclear if street-level dealers are aware of what's in the pills they're selling.
"One of my biggest concern is that our teenagers and young adults are taking pills from these dealers that are laced with fentanyl," Honsal said. "The chances of overdose is very high. I urge the people of Humboldt County to not take any prescription pills that were not prescribed by a doctor and not purchased at a pharmacy."
But Sopoaga also made clear that some users are very actively seeking out the more powerful opioid.
"The buzz on the street is people want fentanyl," he said, adding that this will remain "the priority" for the task force. "It's obviously the biggest issue just based on the deaths."
Sopoaga said the task force is also working with the Humboldt County District Attorney's Office and an association of state narcotics officers and has looked into the possibility of building a homicide case against a dealer linked to an overdose death.
Honsal said federal prosecutions are also possible.
"We are going after the dealers and suppliers of this poison," he said. "We are working with both our state and federal law enforcement partners to hold those persons accountable that are pushing fentanyl in our community. Dealers can be charged by the state or federal government for distributing fentanyl resulting in overdose death. This is our No. 1 priority in the county right now. We have zero tolerance for fentanyl dealers."