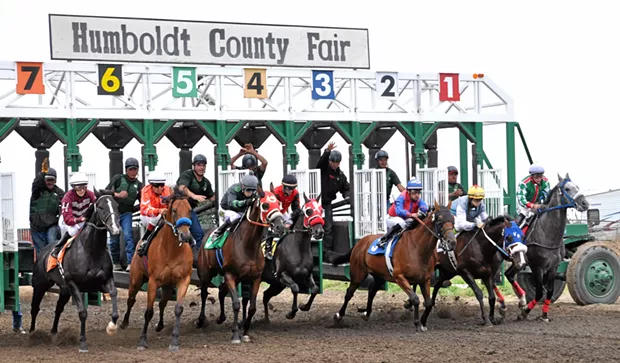 Submitted
The Humboldt County Fair announces dates and a fundraiser for race horse owners.
The Humboldt County Fair announced today plans (if all goes well) to hold the event from Aug. 18 to Aug. 29 with the theme "A Country Fair with a Western Flair."
According to a news release, the fair has set up a
"Horses to Humboldt" GoFundMe page
to help owners make their way to Ferndale this summer for a return of the races.
"It's been a tough year for horses too as they have not been able to run races. Over the years, the cost for horse owners to travel, stall, feed, and insure their horses has continually gone up," the fair's release states. "The campaign is an effort to keep the local tradition alive of making heart-warming memories in Ferndale during the sunny days at the fair enjoying the horse races with friends and family by offering incentives to horse owners to attend."

The campaign has so far raised $5,000 of the $50,000 goal.


The fair was, of course, put on hold last year amid the COVID-19 pandemic.
Read the full release and find more information on how to become a vendor below:
The Humboldt County Fair has announced their planned fair dates for the 2021 Humboldt County Fair. If all goes well with reopening plans, the Fair will be held starting Wednesday, August 18th and running through Sunday, August 29, 2021.

The Theme of the fair was chosen at the last Board meeting, "A County Fair with a Western Flair." All phases of the fair are in the planning stages including Horseracing, Carnival, Vendors, Exhibits and Livestock. In an effort to secure more horses to run during the fair, there is currently a "Horses to Humboldt" GoFundMe page set up to help horses make the trip to Ferndale.

It's been a tough year for horses too as they have not been able to run races. Over the years, the cost for horse owners to travel, stall, feed, and insure their horses has continually gone up. The campaign is an effort to keep the local tradition alive of making heart-warming memories in Ferndale during the sunny days at the fair enjoying the horse races with friends and family by offering incentives to horse owners to attend.

The "Horses to Humboldt" GoFundMe page can be found on the Humboldt County Fair's Facebook page, or you can contact the fairgrounds office directly if you want to donate. The Fair is also looking for Vendors who would like to sell and promote their products and services in our Commercial Building during the fair.

Applications for commercial Vendors can be found on the HCF website https://www.humboldtcountyfair.org, by emailing humcofairentries@frontiernet.net, or by calling the Fair office at (707) 786-9511.

For more information about the fair, check for progress updates on their website, https://humboldtcountyfair.org/ or follow Humboldt County Fair on Facebook! We are looking forward to an exciting 2021 "County Fair with a Western Flair."