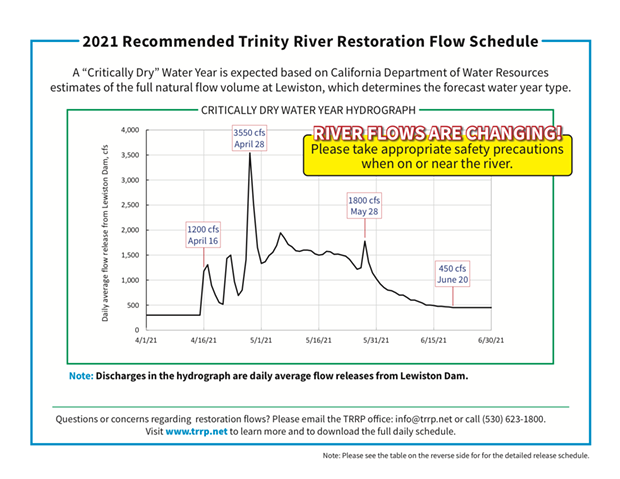 Another round of Trinity River restoration flows being released from the Lewiston Dam takes place this week to help improve conditions after another critically dry water year.
That means rising and swifter water at a time when the rivers are already running high and cold. Earlier this month, the Humboldt County Sheriff's Office and area residents rescued three swimmers who became stranded on a rock in the Trinity River at a day use area in Willow Creek.
"This year marks the third critically dry year in the last five years for the Trinity watershed," the Bureau of Reclamation release on the releases stated. "The planned release schedule attempts to maximize benefits to the physical and biological character of the Trinity River, given the constraints of the limited amount of water available.
A peak release to increase flows to 3,550 cfs is slated for April 28. Two others are scheduled in May.
<!—StartFragment—>A flow schedule based on the expected amount of water available to support salmon restoration efforts on the Trinity River is brought forward by the Trinity Management Council each year.
<!—EndFragment—>
"Visitors near or on the river can expect river levels to increase during the flow releases and should take appropriate safety precautions," the release states. "Landowners are advised to clear personal items from the floodplain prior to the releases."
A daily schedule of flow releases is available at the program's website
www.trrp.net/restore/flows/current/
.