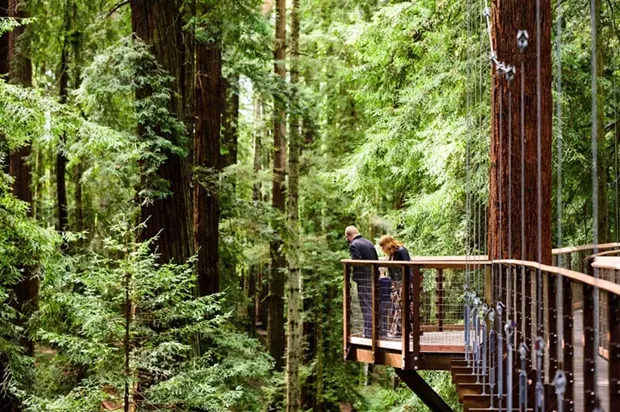 Eddy Alexander on behalf of the city of Eureka
A platform on the Redwood Sky Walk.
The soft opening of the Redwood Sky Walk at the Sequoia Park Zoo, originally scheduled for tomorrow, is being delayed due windy conditions in recent days.
"While the Redwood Sky Walk has been specially engineered to withstand many adverse weather events, the structure is attached to living trees. Because of the many natural and manmade variables at play, the zoo has put aggressive protocols in place to thoroughly check the structure when extreme weather conditions present opportunities for unusual strain," Zoo Director Gretchen Zeigler said in an announcement. "It's truly unfortunate that local wind conditions over the past few days have forced us to implement our closing procedures and delay our long-awaited softopening plans. But, the safety of our guests will always be our top priority. These precautionary measures are in place for moments such as this."
The Eureka office of the National Weather Service is forecasting winds between 7 to 10 mph tomorrow and up to 14 mph hour on Saturday.
Previously announced
price increases for zoo entry
will not go into effect until the walkway opens. More information on when that will happen is expected to be available next week. A grand opening celebration is scheduled for June 4 to June 6.
The 100-foot-high suspended pathways through the trees is the longest in the western United States, according to the zoo, at just under a fourth of a mile to the end and back.
In the meantime, check out photos of the new attraction below:
11 slides
Redwood Sky Walk Announcement