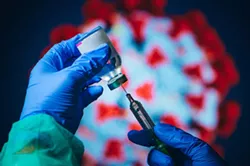 With Humboldt County Public Health having announced a push to get 75 percent of the eligible population vaccinated ahead of June 15, when the state plans to drop a host of COVID-19 restrictions, the
Journal
wants to hear from you, our readers.
If you're vaccinated, why did you decide to get the shot? How'd it go? What feels different in your post-vaccinated life? What have you done that you couldn't or didn't do before? How'd it feel? And if you have a picture of yourself getting vaccinated, we'd love that, too. (Or maybe a picture of a post-vaccination event or reunion?) Please send responses to editor@northcoastjournal.com with "vaxed" in the subject line. Or, simply share your thoughts in the comment section below.
If you aren't vaccinated, please tell us why. If there are barriers — transportation, economic, employment — explain what they are. If you have questions, pass them along and we'll do what we can to find answers.