On Sunday, June 6, some 50 people gathered on the Samoa Peninsula, on un-ceded Wiyot land called Twaya't, for the second Paddle Out for Justice. Event Organizer Melissa Meiris started off the roster of speakers who addressed the crowd on the beach, discussing social justice issues ranging from families separated at the U.S-Mexico border, racism, LGBTQ issues and the unsolved death of Josiah Lawson four years ago.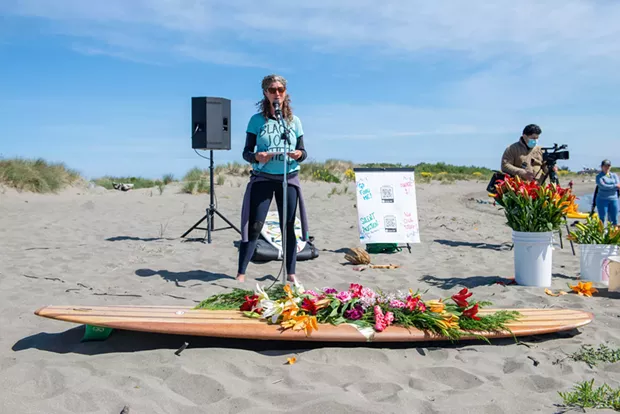 Among them were Terry Uyeki of Humboldt Asians & Pacific Islanders in Solidarity, Brieanne Mirjah of the Eureka Chinatown Project, musician Julio Torres, Brenda Perez of Centro del Pueblo, Lark Doolan and Arcata High School Black Student Union President Bella Volz-Broughton.
Then paddlers of all sorts — surfers, standup paddle boarders, kayakers and canoeists — took to the water, a bouquet of flowers with them as tribute to those lost. See the full slideshow by Mark McKenna below.

<!—EndFragment—>
33 slides