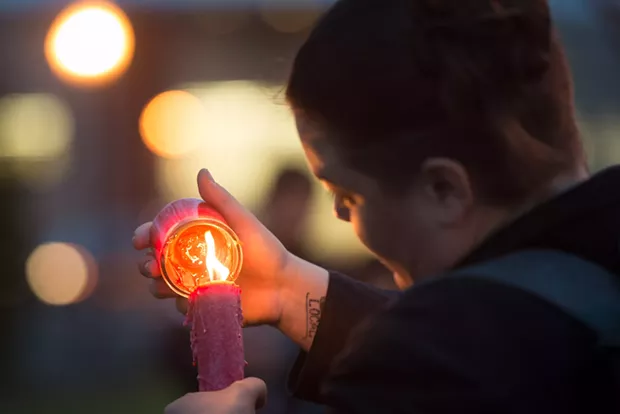 Mark McKenna
Molly Conso, pictured lighting a candle at a vigil for David Josiah Lawson, is suing the city of Eureka and county of Humboldt, alleging officers used excessive force during a protest of the 2020 murder of George Floyd.
A local woman has filed a federal lawsuit against the county of Humboldt and the city of Eureka, alleging police officers violated her constitutional rights when they shot her with less-than-lethal projectiles as she peacefully marched while protesting the May 25, 2020, murder of George Floyd by a Minneapolis police officer.
In the
suit
filed last month seeking unspecified damages for physical pain and emotional distress, Molly Crane Conso alleges that she was peacefully marching, locked arm-in-arm with other protesters, on May 31, 2020, near the Dutch Bros. parking lot on N Street, when — "suddenly and without warning" — officers shot pepper balls into the crowd and they struck her in the "head, buttocks and breasts."
"At no time did plaintiff violate any laws or present any harm or threat of harm to the officers or others at the scene," the lawsuit states. "Upon information and belief, (the officers) gave plaintiff no verbal warning or command before shooting her with projectiles. Upon information and belief, at no time was an order to disburse issued to the peaceful protestors by defendants prior to unlawfully and unjustifiably shooting plaintiff with the projectile."
The suite alleges Conso suffered injuries to her head, a concussion, post-concussive syndrome, bruising, chemical burns and hearing impairment from being hit with the projectiles, as well as emotional distress as a result of the incident.
On June 1, 2020, EPD Capt. Brian Stephens released a video recorded statement detailing the police response to protests — including the one in which Conso alleges she was injured — that had occurred the prior weekend. Regarding the May 31, 2020, protest, Stephens said EPD officers had been standing by as those participating in the protest marched from the courthouse to various parts of the city. But as the day drew on, Stephens said officers documented numerous incidents of vandalism, including one businesses with a broken window and others that had been spray-painted with graffiti, and identified a suspect.
"At this point, I made the decision to remove the person who we knew was causing the vandalism," Stephens said, adding that officers with EPD and the sheriff's office moved into to affect an arrest at the intersection of Fifth and N streets.
But when police took the suspect — later identified as Brent Clark — into custody, Stephens said the crowd turned unruly, with at least one person — later identified as Oliver Winfield Perez — allegedly trying to forcibly remove Clark from police custody.
At that point, Stephens said that "given the escalating circumstances and the safety risks to the officers" police opened fire on the crowd with paintball guns that fire projectiles filled with a powdered pepper spray, commonly referred to as pepper balls. Stephens did not specify how many officers fired or how many people were struck but said there were injuries and police spent "several minutes" on scene trying to de-escalate the situation and offer medical aid. (Watch Stephens full recorded statement below.)
The following video, submitted by a viewer and posted to social media by local television reporter Nazy Javid, appears to capture the incident here:
In her suit, Conso alleges officers used excessive force, violated her First Amendment rights and inflicted emotional distress, while also alleging that the city, county, EPD Chief Steve Watson and Sheriff William Honsal were negligent.
The county and city have yet to respond to the suit, and no trial date has yet been set in the case.