<!——StartFragment——>
The Crabs might have lost their nine-game winning streak on Saturday against the West Coast Kings but that didn't stop them from enjoying a well earned series win against the visitors on Sunday behind a shutdown performance from starting pitcher Owen Stevenson. Following another midweek set of blowouts where the Crabs took 10-3 and 12-1 wins over the Payson Cowboys, the weekend offered some of the most competitive baseball the home fans have seen this summer.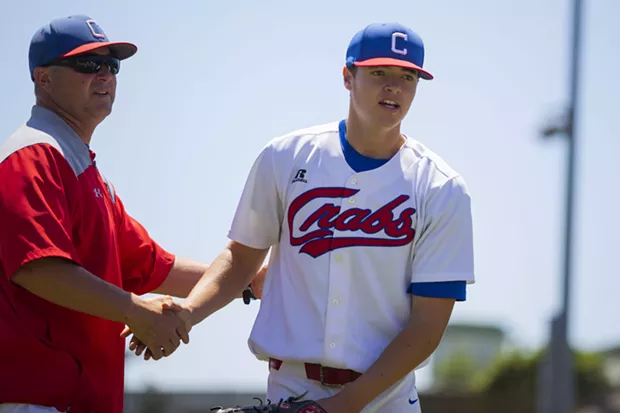 Thomas Lal
Crabs manager Robin Guiver shakes pitcher Owen Stevenson's hand after Stevenson's last inning of work on July 18, 2021 against the West Coast Kings.
Friday's game was perhaps the most heated things have gotten at Arcata Ballpark this season, with a close score and tensions rising as the Kings hit seven Crabs batters with pitches. The Crabs also faced more adversity in the game when a play at the plate resulted in starting catcher Andrew Allanson being forced to leave the game after being spiked in the hand while attempting to tag out a runner. Third baseman David Morgan, who has been brilliant defensively at third base this season, also was forced to leave the game when a pitch struck him in the same wrist he had previously injured.
<!——StartFragment——>
Fortunately, Allanson was able to return to the lineup on Sunday as the designated hitter and Morgan's x-rays came back with no sign of a break giving the team hope of maintaining a somewhat stable infield going into next week.
The Crabs were able to use a solid sixth inning to take the first game of the series with Gabe Giosso, Dylan McPhillips, and Ethan Fischel all pushing runs across and allowing the Crabs to surge ahead of the Kings who had tied things up earlier that inning. Conversations were lively between the dugouts, with players on both sides chirping each other all game, but the Crabs managed to stay focused on the job at hand to pull out the 8-4 victory with strong bullpen performances from Wesley Harper and Sean Prozell to help secure the win after Kaden Riccomini started the game and struck out seven.
Thomas Lal
Crabs pitcher Wesley Harper heads back into the dugout after completing an inning of work on July 16, 2021.
For much of Saturday's game, the usually hot bats of the Crabs were stifled by Kings starting pitcher Cole Chimenti, who managed to hold the home lineup scoreless until the sixth inning, giving the visitors plenty of time to score four runs of their own and take a lead that they wouldn't give up the rest of the night. The Crabs rallied in the eighth and ninth innings to score two runs in each, but were unable to close the gap and fell 5-7. Despite the loss, Giosso continued his impressive hitting form totaling three hits on the night, appearing to be a consistent problem for the Kings pitchers.
Thomas Lal
Shortstop Aaron Casillas celebrates and points to the crowd after scoring against the West Coast Kings after reaching base on a hit-by-pitch on July 16, 2021.
After the loss, the Crabs came out for a sunny day game, looking for a bounce back. Stevenson delivered on the mound by striking out 11 batters and allowing just a single hit through six innings in a dominant performance. The freshman out of University of San Francisco was on it from the first inning, where he struck out two Kings batters and proceeded to strike out at least one batter per inning through the rest of his outing.
"Owen's been rock solid all summer," Crabs Manager Robin Guiver said following the teams 6-0 win on Sunday. "After last night it was kind of frustrating, we got a little heated, we definitely wanted to win today. It felt like we came to the yard ready to go and Owen is consistent. He's got just good stuff and keeps a real calm way about himself. We had our best part back in our bullpen going today with Sean [Prozell] and Chad [Wilson]. And once he handed over to those guys I felt really good about things."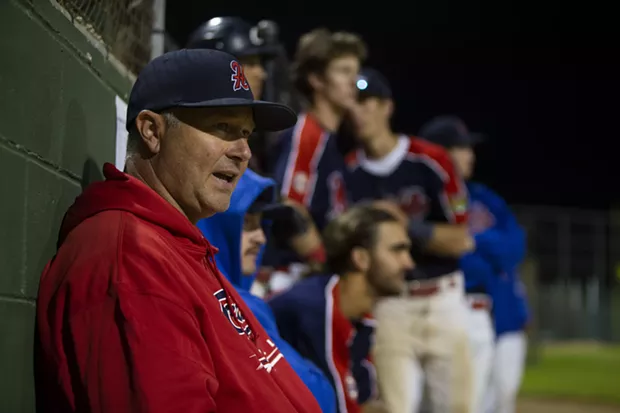 Thomas Lal
Crabs manager Robin Guiver sits outside of the dugout with his players behind him while the Crabs attempt to rally late against the West Coast Kings on July 17, 2021.
After watching the two previous games, Stevenson was able to come in with a game plan and use his fastball to get ahead in counts early to silence a lineup that scored 11 runs in the previous two games.
"I was just really relaxed today, Stevenson after the game. "I thought I'd pound the zone early with my fastball, see if these guys could get on time with it. And then once they kind of weren't on time with it, it was a lot easier to throw my secondary stuff off of that. So a lot of curveballs, changeups of the fastball. But when you're throwing that many strikes with your fastball, it's a lot easier to attack guys."
Stevenson was able to pitch with a lead from the second inning on with the Crabs able to get contributions from up and down the lineup. Notably, Konner Kinkade put up a three hit game to break out of a slump and outfielder Luke Powell put up a two hit day with three stolen bases. Powell, who struggled early in the season but has steadily improved since July in the batter's box, said a shift in perspective has helped him turn the corner this summer.
It was "Just being relaxed and being with the flow," Powell said. "I was being too hard on myself. Too tense. Thinking I'm going to be perfect but this is baseball. You fail three out of 10 times and you're considered one of the best. So that's how your brain has to be."
After finishing his day, Stevenson handed the ball with off with confidence to Sean Prozell and then Chad Wilson, who both kept the strikeouts rolling to complete the shutout. Wilson and Prozell have been the go to closers for the Crabs this season and it's easy to see why. The sidearm thrower Wilson racked up another four strikeouts in his two innings with Prozell picking up one as well.
Thomas Lal
Crabs pitcher Sean Prozell throws a pitch in relief on July 18, 2021.
"Those are our guys," Stevenson said. "Those are our back end guys who can shut down everyone. Chad's been putting up crazy numbers. Sean's been getting everyone out. So to have those guys have as much confidence as they do is that gives me confidence."
<!——EndFragment——>