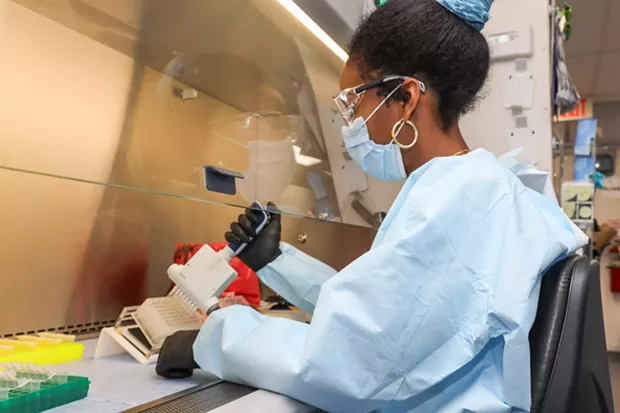 Submitted
Humboldt County Public Health Microbiologist Annayal Yikum prepares patient samples for the COVID-19 testing process.
Humboldt County Public Health confirmed 35 new COVID-19 cases today — making 148 so far this week — after laboratories processed 407 samples with a test-positivity rate of 8.6 percent.
Last week, the county recorded 169 new cases, the highest weekly tally since the post-holiday surge in late January.
No new hospitalizations were reported but, according to a state
database
, 10 people remain hospitalized with COVID-19 locally, including four under intensive care.<!—————EndFragment—————>
Earlier today, the Humboldt County Administrative Office
announced
that as of tomorrow facial coverings will be required in all county facilities, warning the current surge in cases poses a "real threat" to the county's ability to provide vital services.
Days after Humboldt County Public Health and the Centers for Disease Control and Prevention
updated
their mask guidance, the California Department of Public Health followed suit in recommending that everyone — regardless of vaccination status – wear a mask while indoors in public spaces for regions with high levels of virus transmission, which includes Humboldt County. According to the CDC, more than 90 percent of California residents are in areas of high or substantial transmission, including Humboldt.
The recommendation to continue masking comes after the increased spread of the Delta variant, which is believed to be more contagious than other COVID-19 varieties and results in more severe illness. The Delta variant now accounts for nearly 85 percent of new infections nationally. Earlier this week, Public Health reported that the Delta variant was found in 25 percent of samples that underwent genomic sequencing last month.
Public Health is urging residents to help limit the spread of the virus by wearing masks indoors in public, participating in contact tracing efforts and getting vaccinated.
According to the release, Public Health is prioritizing contact tracing investigations based on risk due to the surge in local COVID cases. Anyone who tests positive for COVID-19 is urged to assist contact investigators in quickly identifying their close contacts, defined as those who have been within six feet for 15 minutes or more within a 24-hour period.
<!—————StartFragment—————>Public Health is urging residents who have yet to do so to get their COVID-19 vaccines, as it is the only protection against severe illness and death from the virus. This week's Public Health vaccine clinics include Pfizer and Johnson & Johnson doses. The full schedule includes:<!—————EndFragment—————>
<!—————StartFragment—————>
Trinidad – Thursday, July 29, from noon to 3 p.m.
Trinidad Town Hall (409 Trinity St.)
Pfizer/Johnson & Johnson
Eureka – Thursday, July 29, from 5 to 8 p.m.
Eureka Summer Concert Series (Madaket Plaza, 1 C St.)
Pfizer/Johnson & Johnson
Eureka – Friday, July 30, from 1 to 4 p.m.
Transition-Age Youth (TAY) Division (433 M St.)
Pfizer/Johnson & Johnson
Eureka – Saturday, July 31, from 11 a.m. to 4 p.m.
Get Out and Play Day (Sequoia Park, 3414 W St.)
Pfizer/Johnson & Johnson
Fields Landing – Tuesday, Aug. 3, from noon to 2:30 p.m.
Fields Landing Boat Ramp (End of Railroad Ave., South Humboldt Bay)
Pfizer/Johnson & Johnson
King Salmon – Tuesday, Aug. 3, from 3:30 to 5:30 p.m.
Gills by the Bay (77 Halibut Ave.)
Pfizer/Johnson & Johnson
Eureka – Thursday, Aug. 5, from 11 a.m. to 2 p.m.

College of the Redwoods Gym (7351 Tompkins Hill Road)
Pfizer/Moderna
To make an appointment in advance or view additional vaccination opportunities and to request help with transportation, visit
www.vaccines.gov
or
www.myturn.ca.gov
.
To date, Humboldt County has confirmed
5,045 cases, with <!—————StartFragment—————>229 <!—————EndFragment—————>hospitalizations and 53
confirmed COVID-19 related deaths.
The county dashboard lists <!—————StartFragment—————>4,728 <!—————EndFragment—————>people as having "recovered" from the virus locally, though that just means they are no longer contagious and does not account for long-term health impacts, which local healthcare workers have told the
Journal
can be substantial, even in previously healthy patients.
The county's test positivity rate has gone from 3.6 percent in November, to 7.3 percent in December and 9.9 percent in January, before dropping to 6.5 percent in February. In March, it dropped to 4.5 percent before inching back up to 5.9 percent in April. In May, it jumped to 8.3 percent but fell back to 5.9 percent in June. In July, it has risen to 9.7 percent even as vaccinations have rendered fewer local residents susceptible to infection.
Nationwide, more than 34.7 million cases have been confirmed with <!—————StartFragment—————>609,853 <!—————EndFragment—————>deaths, according to the
U.S. Centers for Disease Control
. Of those, 3.8 million cases and <!—————StartFragment—————>63,891 <!—————EndFragment—————>related deaths have been confirmed in California, according to the
Department of Public Health
.
Basics of COVID-19
The California Department of Public Health and the Centers for Disease Control, state that symptoms of novel coronavirus include cough and shortness of breath or difficulty breathing, or at least two of the following: fever, chills, repeated shaking with chills, muscle pain, headache, sore throat or a new loss of taste or smell.
Emergency warning signs needing immediate medical attention include difficulty breathing or shortness of breath, persistent pain or pressure in the chest, new confusion or inability to awaken, and bluish lips or face.
In an emergency situation:
Call ahead to the emergency room or inform the 911 operator of the possibility of a COVID-19 infection and, if possible, put on a face mask.
Symptoms or possible exposure:
In the case of a possible exposure with symptoms — fever and cough or shortness of breath — contact your doctor's office or the county Department of Health and Human Services, which has a hotline that can be reached during business hours at covidinfo@co.humboldt.ca.us or at (707) 441-5000. Residents seeking medical advice or questions about testing are asked to contact Public Health at hhsphb@co.humbldt.ca.us or at (707) 445-6200.
St. Joseph Health has also set up a virtual assessment tool as an aid to assessing risk factors for contracting the illness, which can be found here.
The Federal Emergency Management Agency has started a rumor-control webpage that can be found
here
. For the
Journal
's latest COVID stories, updates and information resources, click
here
.
Read the JIC release below:
July 29, 2021 - 35 New Cases Reported Today
Thirty-five new cases of COVID-19 have been reported in Humboldt County today, bringing the total number of county residents who have tested positive for the virus to 5,045.

To limit the spread of the virus in the community, unvaccinated residents over the age of two are mandated by state health order to wear facial coverings in indoor public settings. Federal, state and local health officials also recommend indoor public masking regardless of vaccination status.

Consequently, many local businesses and organizations are requiring masks before entry. Masking signage and other COVID-19 resources for businesses are located on the "Guidance for Industry and Events" page of the Humboldt County website at https://humboldtgov.org/2911/Guidance-for-Industry-and-Events.

Public Health officials continue to urge local residents to get fully vaccinated to protect against severe illness and death from COVID-19. Full vaccination is achieved two weeks after the second dose of the two-dose series of Pfizer or Moderna or one dose of the Johnson & Johnson vaccine. For more information about the vaccine and its availability, contact the Joint Information Center at 707-441-5000.

Vaccines are available at Public Health vaccination clinics and most local pharmacies. Walk-ins are welcome at all Public Health clinics, or sign up in advance at MyTurn.ca.gov. See the clinic schedule for the next seven days below.

Eureka – Thursday, July 29, from 5 to 8 p.m.
Eureka Summer Concert Series (Madaket Plaza, 1 C St.)
Pfizer/Johnson & Johnson

Eureka – Friday, July 30, from 1 to 4 p.m.
Transition-Age Youth (TAY) Division * (433 M St.)
Pfizer/Johnson & Johnson
*$25 Coming Attractions movie voucher for the first 30 people who get vaccinated at this clinic.

Eureka – Saturday, July 31, from 11 a.m. to 4 p.m.
Get Out and Play Day (Sequoia Park, 3414 W St.)
Pfizer/Johnson & Johnson

Fields Landing – Tuesday, Aug. 3, from noon to 2:30 p.m.
Fields Landing Boat Ramp (End of Railroad Ave., South Humboldt Bay)
Pfizer/Johnson & Johnson

King Salmon – Tuesday, Aug. 3, from 3:30 to 5:30 p.m.
Gills by the Bay (77 Halibut Ave.)
Pfizer/Johnson & Johnson

Eureka – Thursday, Aug. 5, from 11 a.m. to 2 p.m.
College of the Redwoods Gym (7351 Tompkins Hill Road)
Pfizer/Moderna

The Pfizer vaccine is approved for children as young as 12 years old. Minors must be accompanied by a parent or guardian. The Moderna and Johnson & Johnson vaccines are authorized for those 18 and older.

To check availability of vaccines at local pharmacies, visit vaccines.gov or text a ZIP code to 438829 to find a participating pharmacy nearby. Most pharmacies allow walk-ins.

View the Humboldt County Data Dashboard online at humboldtgov.org/dashboard, or go to humboldtgov.org/DashboardArchives to download today's data.

For facial covering recommendations and mandates, go to cdph.ca.gov/Programs/CID/DCDC/Pages/COVID-19/guidance-for-face-coverings.aspx.

For the most recent COVID-19 information, visit cdc.gov or cdph.ca.gov. Local information is available at humboldtgov.org or by contacting covidinfo@co.humboldt.ca.us or calling 707-441-5000.

Sign up for COVID-19 vaccination: MyTurn.ca.gov
Check for vaccine availability at a local pharmacy: Vaccines.gov
Local COVID-19 vaccine information: humboldtgov.org/VaccineInfo
Humboldt County COVID-19 Data Dashboard: humboldtgov.org/Dashboard
Follow us on Facebook: @HumCoCOVID19
Instagram: @HumCoCOVID19
Twitter: @HumCoCOVID19
Humboldt Health Alert: humboldtgov.org/HumboldtHealthAlert
###